Uncut - October Playlist CD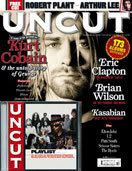 Uncut
's October cover story is "Kurt Cobain & the untold story of Grunge". Apparently it's fifteen years after
Nevermind
and coincidentally there's some fresh material about the Grunge genre. I sure hope there's something new left for
Nevermind
's twentieth anniversary.
The grunge coverage includes a timeline, an imaginary "what if Kurt Cobain had lived" timeline, and several interviews with/articles about assorted musicians, with an "essential download" and "
YouTube
moment" for each. Among those on the grungey pages of Uncut: Chris Cornell (formerly of Soundgarden, now of
Audioslave
), Mark Arm (of
Mudhoney
), Evan Dando (of
Lemonheads
),
Mark Lanegan
(formerly of Screaming Trees, now a solo artist).
There are also profiles of "the John and Yoko of the piece-Kurt Cobain and Courtney Love." Every pop culture icon must be
exactly like some other pop culture icon
. What happened to the Sid and Nancy comparison? They're just not as hot as the Beatles at the moment. Maybe that comparison will return in five years.
Elsewhere, specifically: affixed to the front of the magazine, is this month's
Playlist
CD, containing much fine music, along with a Monty Python bit.
Uncut - The Playlist - October 2006

Track Listing:
1. The Twilight Singers - I'm Ready
2. Grizzly Bear - On A Neck, On A Spit
3.
The Hidden Cameras - Death Of A Tune
(available on
Awoo
) Pretty and it rocks, but not hard enough to knock a drink over
4. Bert Jansch - A Woman Like You
5.
Sparklehorse - Shade And Honey
(available on
Dreamt For Light Years In The Belly Of A Mountain
) Beautiful, gentle love song
6. Free - Trouble On Double Time
7. James Yorkston - Summer Song
8.
Nina Nastasia - Brad Haunts A Party
(available on
On Leaving
) Strong piano-playing accompanies pretty vocals about feeling disgruntled.
9. Nicky Wire - I Killed The Zeitgeist
10. Brightblack Morning Light - Friend Of Time
11.
Charlotte Gainsbourg - The Songs That We Sing
(available on
5:55
) I'm not wowed. The music was mostly fine. Gainsbourg's voice seems good, and appropriately breathy. However, the song structure is awful; it's basically over at 1:49 and there's nothing for anyone to do until it really ends so they just combine repetition, awkward silence, and awkward repetition. I hope her other songs are better.
12. The Fratellis - 3 Skinny Girls
13. Wooden Wand And The Sky Band - Dead Sue
14.
Monty Python - Bookshop
(available on
Monty Python's Contractual Obligation Album
) Anyone who works/has worked in a bookstore or dates/has dated/is married to someone who works/has worked in a bookstore will appreciate the realism of this comedy clip featuring an incredibly annoying customer. People who work in retail have it tough. Pretty much anything involving working with "the public" isn't a bed of thornless roses.
15. Love - You Set The Scene