Placebo At the Virgin Megastore Oct. 21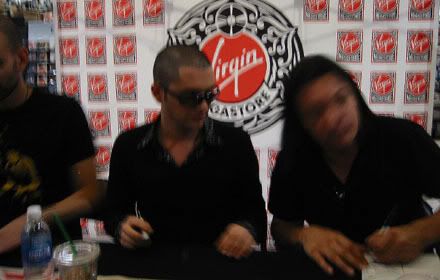 Placebo
played a brief, but strong set to a large, enthusiastic crowd at the Virgin Megastore in Hollywood yesterday.
From the opening "Because I Want You" to the closer "Meds", Brian Molko, Stefan Olsdal, and Steve Hewitt played their signature bittersweet music and sounded cohesive through some audio problems during the second song, "Song To Say Goodbye".
Fans began lining up outside Virgin's Hollywood Boulevard storefront Saturday morning, awaiting the 2 PM concert, as alleged Winnie the Pooh and Superman dopplegängers walked by in search of tourists who would rather see Winnie the Pooh or Superman than some alternative band.
Once the crowd was let inside, shrieking ensued a few times as Brian Molko entered from a door near the back of the room. He entered the room, then left a few times, possibly to toy with us, or possibly to test how well everyone was obeying the "no flash photography" rule which had been announced over the loudspeaker several times. It's understandable that flashes could be distracting to a band, apparently to the extent that Molko felt comfortable grabbing a camera from someone who was flashing-away early during the set. The crowd cheered the move. At one point Molko got a shouted "I love you Brian". "You have exquisite taste young lady" he responded. A shouted "I love you Stefan" and some fan love for Hewitt followed.
The event was mismanaged by Virgin in several respects, but the patience of the band and the fans was impressive. Placebo stayed to sign autographs for everyone in line, which not every band does when faced with a huge in-store crowd (an employee said he didn't know how many wristbands were given away but guessed 300+. One fan had been told 50 would be given away. The purchase of any Placebo item was required to get a wristband, and the band would sign any one item.) Fan affection for Placebo seems to have encouraged warmth, or possibly the band just has nice fans; they were pretty well-behaved under some difficult circumstances, including dual autograph lines that resulted in one long line of fans being sent to stand behind the other after being told to stay where they were.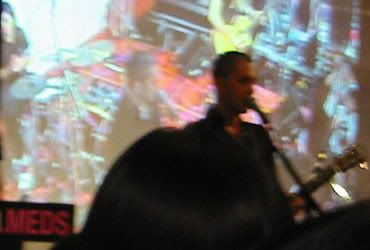 The Virgin Set:
1. "Because I Want You"
2.
"Song To Say Goodbye"
3. "Jackie" (the band's cover of the Sinéad O'Connor song appears on the bonus disc of special editions of
Sleeping With Ghosts
and on the
This Picture
DVD)
4. "Meds"
Placebo's upcoming tour dates - all upcoming USA dates are part of their tour coheadling with She Wants Revenge:
Oct. 22 - Los Angeles, CA - Greek Theater
Oct. 24 - San Francisco, CA - Warfield
Oct. 25 - Portland, OR - Roseland
Oct. 26 - Seattle, WA - Showbox
Oct. 28 - Denver, CO - Gothic Theater
Oct. 29 - Kansas City - Beaumont Club
Oct. 31 - Mexico City - Palacio, De Los Deportes
Nov. 2 - Minneapolis - Fine Line
Nov. 3 - Chicago - Riviera
Nov. 4 - Cleveland - Agora Ballroom
Nov. 6. - Philadelphia - Electric Factory
Nov. 7. - New York - Nokia Theater
Nov. 8. - Boston - Roxy
Nov. 19. - Geneva, Switzerland - Arena
Nov. 21. - Lyon, France - Halle Tony Garnier
Nov. 22 - Toulouse, France - Zenith
Nov. 23 - Clermont, France - Ferrand
Nov. 25 - Jesolo (Venice) Italy - Palazzo Del Turismo
Nov. 26 - Bologna, Italy - Paladozza
Nov. 28 - Antwerp, Belgium - Sportpalais
Nov. 30 - Oberhausen, Germany - Arena
Dec. 1 - Rotterdam, Holland - Alloy Halle
Dec. 4 - Nantes France - Zenith
Dec. 6 - Glasgow, Scotland - SECC Glasgow (Archie Bronson outfit + Howling Bells opening)
Dec. 7 - Nottingham, England - Nottingham Arena (Archie Bronson outfit + Howling Bells opening)
Dec. 9 - London, England - Wembley Arena (Howling Bells + Archie Bronson Outfit opening)
Dec. 10 - Manchester, England - Evening News Arena (Howling Bells + Archie Bronson Outfit opening)
Dec. 13 - Vienna, Austria - Stadthalle
Dec. 15 - Berlin, Germany - Treptow Arena
Dec. 16 - Hamburg, Germany - Sporthalle
Dec. 17 - Leipzig, Germany - Messehalle
Dec. 19 - Hannover, Germany - AWD Hall
Dec. 20 - Mannheim, Germany - Sap Arena