Thomas Dolby To Tour With BT, Will Likely Wear Pants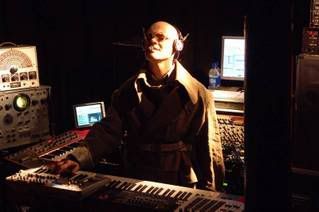 Thomas Dolby
and
BT
are set to embark on
"An Evening With BT and Thomas Dolby" North American tour
next month. The tour kicks off November 28 in San Diego's Solano Beach at Belly Up and ends December 22 at a to-be-announced location in New York City.
For Dolby, the tour coincides with the release of his live retrospective CD and DVD
The Sole Inhabitant
, which will be released via his own label on November 21.
BT will play music from
This Binary Universe
, a CD/DVD set of music and computer animation and art for which he created the soundtrack.
In addition to
making "music in a garden shed" in his pajamas
and planning just the right combination of
"vintage oscilloscopes and signal generators" for his concerts
, Dolby
blogs
If you want to know why he
thinks Cyndi Lauper hates him
or which
Depeche Mode songs he's partial to
, wonder no longer.
He writes engagingly, for example taking a charming approach to writing about his discovery (at
YouTube
) of an old interview he did on a Japanese TV show. He uses the clip as an opportunity to discuss
his love for YouTube
, and writes self-deprecatingly about the interview ("I look completely spaced out"). He also posts pictures to illustrate his (understandable) displeasure with his wardrobe choices. Pointing people
toward
a less-than-flattering video would have been impressive enough, writing about it so amusingly is even better.
The interview
:
Thomas Dolby Concerts:
Oct. 28 - San Francisco, CA - Cow Palace (Exotic Erotic Ball)
Nov. 15 - Cerritos, CA - Cerritos Center
BT "Laptop Symphony" Concert:
Nov. 18 - Salt Lake City, UT - The Depot
"An Evening With BT and Thomas Dolby" Tour Dates:
Nov. 28 - San Diego (Solana Beach), CA - Belly Up
Nov. 29 - Anaheim, CA - House of Blues
Nov. 30 - Tucson, AZ - Rialto Theatre
Dec. 1 - Albuquerque, NM - El Ray Theatre,
Dec. 2 - Aspen, CO - Belly Up
Dec. 3 - - Denver, CO - Gothic Theatre
Dec. 6 - Austin, TX - Elysium
Dec. 7 - Dallas, TX - Granada Theatre
Dec. 8 - Houston, TX - Warehouse Live
Dec. 11 - New Orleans, LA - House of Blues
Dec. 15 - Ft. Lauderdale, FL - Revolution
Dec. 16 - Orlando, FL - House of Blues
Dec. 17 - Tampa, FL - State Theatre
Dec. 19 - Norkfolk, VA - The Norva
Dec. 20 - Baltimore, MD - Recher Theatre
Dec. 21 - Philadelphia, PA - World Cafe Live
Dec. 22 - New York City, NY - TBA
Thomas Dolby - One of Our Submarines
(available on
The Golden Age of Wireless
,
Retrospectacle
, etc.)
Thomas Dolby - Airhead
(available on
Aliens Ate My Buick
, etc.)