Aqualung to Tour With David Gray, Re-Release CD With DVD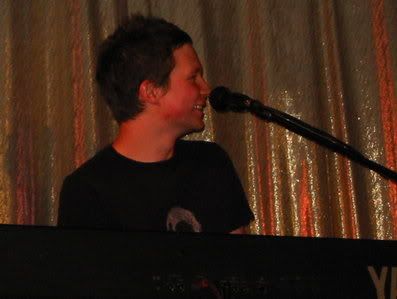 Aqualung
's Matt Hales has announced plans to open for
David Gray
on his
North American tour in March. Aqualung will also play some separate shows during the tour
.
In other
Aqualung news
, work on the new album starts in February, with hopes of finishing "sometime in the summer."
Aqualung's first US album,
Strange and Beautiful
, will be re-released on January 17. It will be bundled with a DVD containing the album in enhanced stereo along with "Hello, I'm Matt, how are you?", a film by Matt's brother, Ben Hales. The film includes behind the scenes interviews and footage, previously unreleased live performances of "Brighter Than Sunshine" and "Strange and Beautiful (I'll Put a Spell on You)", and includes a feature called "It's Easy to Play the Aqualung Way" wherein Matt and Ben give lessons on how to play some Aqualung songs.
A Serban Ghenea remix of "Left Behind" will be the next Aqualung single. It's headed to radio stations, and a video will be made for it.
The David Gray/Aqualung Concert Dates - All in March 2006:
Wednesday 01 - Atlanta Fox Theater
Thursday 02 - Nashville Ryman Auditorium
Friday 03 - Cleveland Palace Theater
Sunday 05 - Milwaukee Riverside Theater
Monday 06 - Indianapolis Murat Theater
Tuesday 07 - Cincinnatti Taft Theater
Thursday 09 - Houston Verizon Wireless Theater
Friday 10 - Dallas Nokia Theater
Saturday 11 - Austin The Backyard
Monday 13 - Denver Lecture Hall, CO Convention Theater
Tuesday 14 - Salt Lake City Kingsbury Hall
Thursday 16 - Portland Theater of Clouds @ Rose Garden
Friday 17 - Vancouver Orpheum Theater
Sunday 19 - Oakland Paramount Theater
Monday 20 - San Diego Copley Symphony Hall
Tuesday 21 - Universal City Gibson Theater
Aqualung - Another Little Hole
(from
Strange and Beautiful
)
David Gray - Disappearing World
(from
Life In Slow Motion
)