Nest Virtual CD Release Show at the Hotel Cafe
Nest
played at
the Hotel Cafe
Thursday night to celebrate the release of their self-titled debut EP. Unfortunately, due to the postal holiday slowdown there were no actual CDs on hand, so it was "a virtual CD release show". The new release date for
Nest
is December 16. Still... people born on December 16: Ludwig von Beethoven, Philip K. Dick, and Noel Coward. People born on December 8: Ann Coulter, Sam Kinison, Kim Basinger, and er, Eli Whitney. That troublemaking Whitney aside, the date change seems like a fortuitous upgrade. Take that, postal service - pOwned!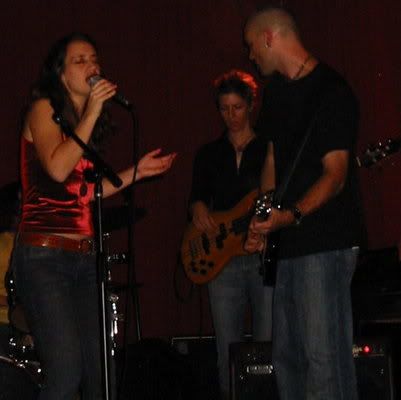 The lack of EPs didn't hurt the show any. The Hotel Cafe does have a relatively small stage, and the space limitations impacted the five-member band a bit. Although both sounded great, it was a pity that bassist
Smadar Galar
was rather obscured behind guitarist
Greg Pajer
to much of the audience for most of the show. Meanwhile, Karen Teperberg's sometimes frenetic drumming proved surprisingly effective for Nest's wistful songs, Ivan Puchalt's sedate keyboard playing less surprisingly so. Singer Ayana Haviv's warm, sweet voice is well-suited to the group's bittersweet alt-rock.
Streaming audio of four songs from the band's six-song EP can be sampled at
Nest's website
. I'm especially partial to "Ultraviolet" and "Part of You".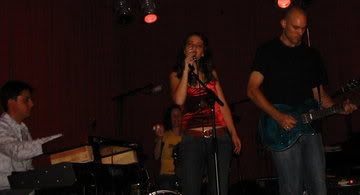 Nest will be playing
Molly Malone's
in L.A. January 7th at 9:30 PM. 21+ and tickets are $7.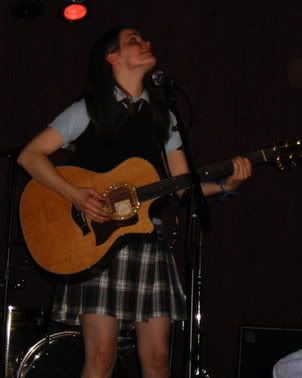 Jenny Owen Youngs
opened for Nest. If there was a merch table devoted to her selling her warez that night, it was seemingly equally devoted to remaining on the down-low. She's unsigned, but she's released a full-length CD,
Batten the Hatches
, which is available (along with a demo EP and other merch) at her website's
store
.
A bloke at Amoeba had never heard of Youngs and wanted to know what she sounded like. He gently mocked me for referring to her as "sassy". I said, "Well, she's a girl with a guitar, but she uses the word 'fuck' a lot in her songs." He seemed happier with this description. As far as Amoeba's computer system is concerned, Youngs does not exist. Incidentally, Youngs thinks of herself as more
feisty
than sassy. Tomato, tomahto. She sweetly sings some hook-laden, exceedingly dysfunctional songs, and tosses in the obligatory cover of a mainstream pop song ("Since You've Been Gone"). And she wears a schoolgirl uniform.
Unfortunately, she hasn't made any MP3s available for download, but
streaming audio of a few songs is available
. I especially recommend "Fuck Was I" and "Voice On Tape".
Youngs
will perform at a benefit concert at the Living Room in NYC
Wednesday, December 21st at 10 PM. Chris Garneau plays at 11 PM, and Duncan Sheik at 12 AM. The concert is 21+. Tickets are $20, and proceeds will go toward a friend of Chris Garneau's, who has leukemia and is soon having a bone marrow transplant. Youngs says, "it is going to be sort of this thing where play elliott smith songs, as well as our own songs, and song songs for a few hours". Tickets are now on sale from
the Living Room
.
updated
to add that Youngs will be doing a residency at the Living Room in February. In March she'll return to the City of Angels for a residency at the Hotel Cafe. Get there early if you'd like a table (and order the quesadillas unless you're anti-cheese)