The Dears Delay Album... Only For The U.S.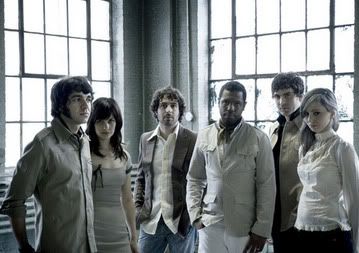 Gang Of Losers
, the third full-length album by intense alt-pop-rockers
The Dears
has been pushed back from its reported
August 29 U.S. release
to
Oct 3
. The album was
recorded in single takes
at the Montreal home of lead singer Murray Lightburn and produced by each and every Dear. In his
studio diary
, Lightburn calls the album
"by far the most honest, earnest, straight ahead thing we've ever done."
He also expects a backlash. He writes, "I'm sure there will be some criticism from older Dears 'fans' regarding this record when they hear it. All the typical shit. As much as I would hate to alienate them forever I can't really care about that." He also really dislikes the group's music being called Britpop, possibly because it's not made by Brits.
Those in the U.K. can buy the non-Britpop-containing
Gang Of Losers
on Aug. 28
, and it's
available August 29th
in the land of maple syrup, caring about hockey, and intense alt-pop-rockers who delay their music only for Americans.
The first
video
from the forthcoming record has been released. It's for "Ticket To Immortality" and has been okayed for viewing by the general population, regardless of nationality.
Gang Of Losers Tracklisting:
1. Sinthintro
2. Ticket To Immortality
3. Death Or Life We Want You
4. Hate Then Love
5. There Goes My Outfit
6. Bandwagoneers
7. Fear Made The World Go Round
8. You And I Are A Gang Of Losers
9. Whites Only Party
10. Ballad Of Humankindness
11. I Fell Deep
12. Find Our Way To Freedom
The Dears are playing at several festivals in Europe next month, including both August 19th and 20th at
V Festival
. They're also playing at a London club called
KoKo
on October 26. The show isn't listed on KoKo's website but tickets are available through
Ticketmaster
.
It has a terrible name but Dublin's
Budrising Summer
on August 22nd may be the best festival of the summer -- "Budrising Summer presents Morrissey, The Magic Numbers, The Dandy Warhols and The Dears". And look:

It's in Dublin, Morrissey will be there, and they'll have ice cream! That will probably even include some flavors made without the "great" taste of Bud™ beer. Sure, the Dandy Warhols will be there, but maybe,
just maybe
they won't play their awful new single "Have A Kick Ass Summer (Me And My Friends)". I wonder if the song wasn't released in late spring or early summer (which would have been more logical timing) because some savvy people connected to the band were dragging their feet, unsure about the quality of the song. I wish the Dandy Warhols would go back to making songs as good as those on
Welcome To The Monkey House
.
The Dandy Warhols - Plan A
(available on
Welcome To The Monkey House
)
Maybe they should spend a lot of time listening to the Dears' music and watching
video
s like this one for "22: The Death Of All The Romance" to get inspired again:
The Dears - Lost In The Plot
(available on
No Cities Left
. An amazing song - grand, sweeping, dramatic, bittersweet)