The Mr. T Experience's Frank Portman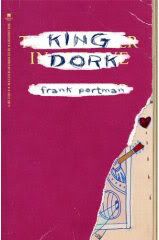 Those who don't know their music may still know a song title or two from the great alt-punk band
The Mr. T Experience
. Something about "Even Hitler Had A Girlfriend" might stick with you. Beyond the irreverent titles are... irreverent lyrics, but clever ones, and powerful, fun music.
The group's lead singer/guitarist/songwriter Dr. Frank, also known as
Frank Portman
, released a solo album,
Show Business Is My Life
, in 1999. More recently, he recorded a homemade CD of mostly acoustic tracks called
eight little songs
, which he originally only intended to sell during his northeast tour this spring, but which is now also available by
mail order
. He hopes to get feedback on the songs, some of which may be on his next album in one form or another.
He writes:
I've been thinking about how comments on the songs and criticism or discussion of the songwriting always occurs after the record has already been made. There's nothing wrong with that, but why can't it happen before that? I've noticed that when you play unreleased songs acoustically, people seem to pay a bit more attention to the songs as songs.
Portman has also been garnering attention for
King Dork
, a satirical coming-of-age novel for young adults published in April. Fortunately for Portman, the attention's been mostly positive! Still, on his website, Dr. Frank cheekily tucked away
this amusingly chopped-up quote
among a long list of bookjacket-friendly praise for his book:
"King Dork... will appeal only to... teens with an interest in... oral sex..." -
VOYA
.
VOYA ("Voice of Youth Advocates") is
"the library magazine serving those who serve young adults"
and as such is not to be confused with, say,
School Library Journal
, which aims to "serve librarians who work with young people in schools and public libraries." You so do
not
want to attend a VOYA/School Library Journal softball game, incidentally. Vicious, just vicious. And a rule dispute can last for hours. School Library Journal gave the book a starred review ("Original, heartfelt, and sparkling with wit and intelligence) while noting the salty language ("oral sex is a frequent topic, as is drug use by teens and adults-but none of it is gratuitous.") Portman's out-of-context VOYA blurb is funnier, though. The
random glossary page
is fun, too. I'm partial to this entry:
Gilligan's Island (GILL-gan SIS-land):
a television show, certain episodes of which contain the secret to the meaning of existence, concealed by means of coded messages and obscure symbolism.
Frank Portman Tour Dates:
Wednesday, 7/12
New York, New York - Coliseum Books - 6:30 PM
King Dork reading, signing; all ages
Show at 6:30PM
Thursday, 7/13
New York, New York - Sidewalk Cafe - 11:00 PM
Acoustic Show; all ages
Sunday, 7/23
Los Angeles, CA -
Hammer Museum
at UCLA - noon
Songwriting workshop for kids - aged 8-13. They will probably ask you to leave if they think you look 25. Looking confused and claiming to be flattered isn't any likelier to work than it is when you're carded and really underage. Anyway, there's something subversive and awesome about a bunch of children learning songwriting from Dr. Frank. The younger, the better! Space limited to 20 kids, and reservations are required. See the
Hammer site
for more info.
Sunday, 7/23
Hollywood, CA -
Amoeba Music
- 3:00 PM
Acoustic set and booksigning
The Mr. T Experience - King Dork
(available on
... and the Women Who Loved Them
)
The Mr. T Experience - Up And Down
(ridiculously catchy and feel-good cover of a Sesame Street song. It's on
Big Black Bugs Bleed Blue Blood
)
Oodles more MP3s at
Frank Portman's website
.