Seth Lakeman Webchat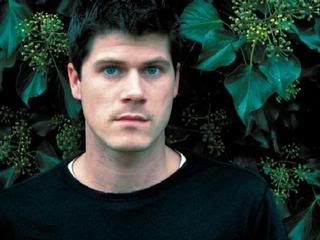 Even the most diehard folkie might feel their affection for the genre waning at this point of the folk revival. The stirring music of Devon singer-songwriter and multi-instrumentalist
Seth Lakeman
should bring back the love.
His second solo album,
Kitty Jay
, was nominated for the
Mercury Prize
.
Freedom Fields
, his latest album, addresses the
English Civil War
between Parliamentarians and Royalists with both traditional and original songs. He personalizes that dusty subject with tales of how war impacts individual lives. Lakeman enhances the immediacy of the stories he weaves with passionate singing and a fierce violin.
Friday, September 15th, Lakeman will
chat in his website's forum from 11 AM to noon
. That's almost certainly 11 to noon
British Summer Time
(GMT + 1). Given that it's also (technically) summer elsewhere, if you live in the U.S., that might put the webchat at either a bright-and-early
5 AM EST
or a starry-skied 2 AM PST, depending on which coast you call home. Either way, if you're going to begin your Saturday bleary-eyed and disoriented, at least a Seth Lakeman webchat should be an interesting, safe, and inexpensive reason to do so.
I know people live in non-EST and non-PST parts of the US, and others (like Seth Lakeman) live in non-US countries. In some ways, wouldn't life be easier if we all lived in the same timezone - like one big happy global community? Yet in some ways, wouldn't life grow much more difficult?
Seth Lakeman is touring in Canada, opening for
Billy Bragg
through the end of the month. In October, he performs headlining concert dates aplenty in England. Info about ticket sales are at
his website
Tour Dates With Billy Bragg:
Sept. 20 - Halifax - Rebecca Cohn Auditorium
Sept. 22 - Montreal - Club Soda
Sept. 23 - Ottawa - The New Capital Music Hall
Sept. 24 - Toronto - Music Hall Theatre
Sept. 27 - Winnipeg - The Venue - Ramada Marlborough
Solo Tour Dates:
Oct. 3 - Norwich - Waterfront
Oct. 4 - Brighton - Concorde 2
Oct. 5 - Frome - Cheese & Grain
Oct. 6 - Northampton - Deco
Oct. 7 - Wolverhampton - Wulfrun
Oct. 8 - Leeds - The Cockpit
Oct. 10 - Cambridge - The Junction
Oct. 11 - Bristol - Fiddlers
Oct. 12 - Cardiff - The Point
Oct. 13 - Loughborough - Festival
Oct. 14 - Oxford - Zodiac
Oct. 15 - Nottingham - Trent University
Oct. 17 - London - Scala
Oct. 21 - Plymouth - Plymouth University
December 14 - Exeter - The Great Hall At Exeter University
The
video
for Lakeman's first single from
Freedom Fields
, "Lady Of The Sea":
Lakeman recently shot a video for his next single, "The White Hare", which will be released in the UK on October 16th. Footage of an acoustic performance of "The White Hare" and an animated not-
the
-video video of the song are available at
his website
.
Seth Lakeman - The Colliers
(available on
Freedom Fields
)