Police Reunion Tour Likely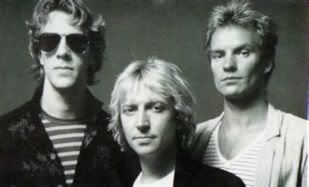 The Police have responded to
rumors of a reunion tour
, essentially saying to
stay tuned
.
30 years ago, the group's first single, "Roxanne", was released. Through a record label spokesperson, the band released a statement on Sting's website acknowledging plans to do "something special" for the anniversary but said "the depth of the band's involvement still remains undetermined."
According to today's
Billboard.com
report, there are just some "final details" to be worked out. Details
could
prevent the concerts, but based on that language and the band's statement, it certainly sounds as though everyone
wants
to tour. Details could already be hammered out, and the label simply has no intention of changing its timetable for a planned tour announcement. It definitely sounds like a go.
The group has
performed twice
since their 1986 break-up: at Sting's wedding in 1992, and at the group's
Rock and Roll Hall of Fame induction
in 2003.
Hopefully they'll schedule a lot of practice time ahead of the tour so they can re-familiarize themselves with their songs and they won't sound "rusty" or forget anything. Sometimes it's endearing when a singer forgets the words to a song, but sometimes it's just sad. And then, people might
really
hate to shell out the amount of money Police tickets will cost and hear something ridiculous like "De Da Da Da, De Do Do Do".
The Police - When The World Is Running Down, You Make The Best Of What's Still Around
(available on
Message in a Box: The Complete Recordings
)
George Michael - Roxanne
(available on the deluxe edition of
Twenty Five
)