The Magic Numbers - Tasty, But Not as Popular as Food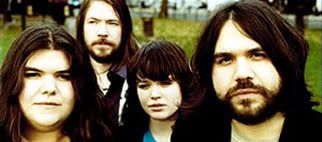 The Magic Numbers
are often compared to the Mamas and the Papas. The band does cite them as an inspiration, along with Lovin Spoonful, the Beach Boys, David Axelrod, and "many sources." They compare themselves to Beck and Flaming Lips in drawing from many sources to create a unique sound. Fair enough, and if you check out the mp3s at the end of this post (oh no, no one is reading the rest of this
now
), you'll see... er,
hear
that there's quite a distinctly different sound, and mood between those two songs. Both have a retro cast to them, but feel new.
The band consists of Romeo and Michele Stodart, who are brother and sister, and Angela and Sean Gannon, who are also siblings. They seem to get along better than those Oasis lads.
"Obviously there are going to be little fights and stuff but we get over them quicker because we know each other so well. So it's easier to take it on chin really. But I'm just really happy to be in a band with my brother and my best friends really." - Michele, in a group interview
In the UK, they have played festivals, opened for bands such as Travis (and in July, will open for U2 before
launching a headlining tour
) and
their first album debuted at #7 on the U.K. album chart
.
However, they were not a success magnet from the get-go. It took their band a while to even take shape with its four members. Once it did, they played in pubs for several years (not continuously, don't worry. They went home and slept and ate in between gigs) before
Ed Harcourt saw them play, and recommended them to his label, which signed them
. They have since opened for Athlete, the Doves, and ... Ed Harcourt. They're presently on tour with Brian Wilson, which is kind of nifty, given their fondness for the Beach Boys. So far no word on any plans for a U.S. tour.
mp3:
The Magic Numbers - Anima Sola
This song isn't on their album, which is a shame. It's so pretty. File under dream-pop?
mp3:
The Magic Numbers - Forever Lost
Their summertime UK hit, which sounds so different. Upbeat, bouncy,
fun
. The lyrics are not exactly all cheerful happy sunshine time, but the music and the hand-claps set a dramatically different musical background for the lyrical angst than Anima Sola's quieter, tropical-flavoured music and simpler, more sedate vocals. I'm fond of both.
"'Forever Lost' is that rarest of things, a jangly feelgood hit of the summer which manages to be sweet without being marshmallow, brimming with sensitivity but never likely to corner you at three o'clock in the morning and start dribbling on about old girlfriends." - NME review
NME concludes the review, "The Magic Numbers, then: soon to be as popular as food."
NME, then: not likely to stop exagerrating. That's okay, because I find it both funny and vaguely yummy.