Death Cab for Cutie Concert Will Be Webcast Live Tonight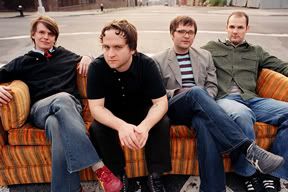 At about 9:45 PM EST tonight,
NPR.org will webcast Death Cab for Cutie's concert at Washington D.C.'s 9:30 Club
. The webcast will be live.
Death Cab
is possibly expected to begin their set at the 9:30 Club at about 9:45 because they are trying to show that they have a naughty rebellious edge. I find that adorable! In its June '04 issue
SPIN
named these rapscallions one of 25 "rock underdogs", "critically adored artists" with the "pop potential" of the Yeah Yeah Yeahs, who may need "a little break" to "finally break out". (Actually they had to share the honour with The Postal Service. Way to hedge your bet there, SPIN!) The mag noted that "Death Cab for Cutie get mentioned on The OC a lot." As do most rock underdogs.
Previous concert performances webcast on NPR.org
have been archived
for your listening pleasure; the set by former underdogs Death Cab will no doubt be there not
terribly
long after the set. Artists whose concerts are archived there now include The White Stripes, My Morning Jacket, Secret Machines, Kings of Leon, Sigur Ros, David Gray, Bloc Party, The Decemberists, Interpol, and Wilco.
MP3:
Death Cab for Cutie - World Shut Your Mouth
(Julian Cope cover, was included with a video e-card promoting "Title & Registration")
MP3:
Death Cab for Cutie - This Charming Man
(The Smiths cover, from
You Can Play These Songs With Chords
)
MP3:
Death Cab for Cutie - I Was a Kaleidoscope (live)
(from the "We Laugh Indoors" CD-single)
MP3:
Death Cab for Cutie - 405 (acoustic)
(from the
Forbidden Love
EP)
MP3:
Death Cab for Cutie - President of What?
(from
Something About Airplanes
)
MP3:
Death Cab for Cutie - Expo '86
(from
Transatlanticism
)
MP3:
Death Cab for Cutie - Underwater!
(from the Sub Pop singles club)