Arctic Monkeys in L.A. - Tickets Now Available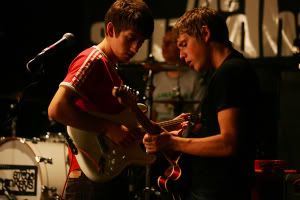 Event: Arctic Monkeys
Venue: Spaceland
1717 Silverlake Blvd
Los Angeles, CA 90027

Please note: persons under the age of 21 will not be admitted.
Seating: GENERAL ADMISSION
Time: Friday, November 18 at 9:00 PM
Quantity: 2
Oh yeah. I'm happy.
As of this writing,
tickets are still available
and a mere $10 each (not counting the service charge, $6 for my two tickets, a pittance I tell you!). They won't last long, so grab some quickly, but if you buy intending to scalp them, I shall have to wish bad karma upon you because that's scummy. So please don't do that; leave the tickets for the real fans. Although come to think of it, why would you be reading this if you weren't a fan? Excellent point. Alright then. As you were!
updated
because there are cities other than Los Angeles... upcoming
tour dates
for Arctic Monkeys include lots of other cities, including a couple shows in New York, and shows in San Francisco and Toronto. Tickets for some of
these
shows are also available now!
updated again
-- tickets to the L.A. show are no longer available through TicketWeb but check out
TicketWeb
and
Spaceland
for more info if you're interested in the show; you may not be out of luck...
MP3:
Arctic Monkeys - Still Take You Home
MP3:
Arctic Monkeys - Curtains Close