Classic Rock Mag: Tribute to Queen CD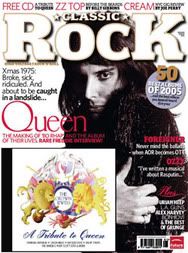 Picked up the January issue of
Classic Rock
magazine today. It's not a magazine I'd ordinarily be drawn to, but this issue includes a CD full o' Queen covers, and
everyone loves Queen
! Plus, the "Bohemian Rhapsody" cover features an autoharp played upside down and... well, actually I really dislike that cover. Several of them are pretty cool though.
The magazine itself includes a look back at the making of Queen's
A Night At The Opera
, a feature on L.A. Guns, interviews, reviews... and... oh no... Classic Rock's list of the best album's of 2005. Just when I thought it was safe to buy another music magazine. Almost February and we're still not done with the best-of lists! Very well... here's a partial list...
Classic Rock's Best Albums of 2005
1. The Darkness - One Way Ticket To Hell... And Back
2. Robert Plant & The Strange Reaction - Mighty Rearranger
3. System of A Down - Mezmerize/Hypnotize
5. Opeth - Ghost Reveries
6. Bon Jovi - Have A Nice Day
7. Trivium - Ascendancy
8. Foo Fighters - In Your Honour
9. Judas Priest - Angel of Retribution
10. Dream Theater - Octavarium
11. Audioslave - Out of Exile
12. Glenn Hughes - Soul Mover
13. The Rolling Stones - A Bigger Bang
14. Cream - Royal Albert Hall: London 2-3-5-6 2005
15. Queens of the Stone Age - Lullabies to Paralyze
Classic Rock's The Crown Jewels: A Tribute to Queen Track Listing:
1. Grey DeLisle - Bohemian Rhapsody (will post this if anyone wants to hear it...)
2. James LaBrie/Bruce Bouillet - One Vision
3.
Jason Mraz - Good Old-Fashioned Lover Boy
(from the Queen covers album
Killer Queen
)
4. Talisman - Tie Your Mother Down
5. Enuff Z'Nuff - Stone Cold Crazy
6.
The Vandals - Don't Stop Me Now
(from
Hollywood Potato Chip
)
7. Robin McAuley & Chris Impellitteri - I Want It All
8. Hayseed Dixie - Fat Bottomed Girls
9.
Anthrax - It's Late
(from
Dragon Attack - A Tribute to Queen
)
10. Batfish Boys - Another One Bites the Dust
11.
Jeff Scott Soto & Bruce Kulick - Save Me
(from
Dragon Attack - A Tribute to Queen
)
12. Jeff Scott Soto - We Will Rock You (live, exclusive to the mag)