The Chalets - Tart, Sweet, Fizzy, Indescribable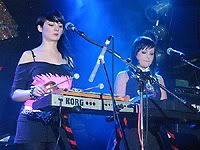 The Chalets
"must be indescribable", according to John Kelly, host of the Irish TV show "Other Voices", where the group
performed several songs
last fall. He claimed a "powwow" as to how to describe them had resulted in a "heated argument" rather than consensus.
The group's upbeat retro-pop has prompted many comparisons to the B-52s. The Chalets even have two female singers, just like the B-52s! There are other similarities, like playful male/female exchanges during songs and an offbeat sense of humor. But if the groups were
that
similar, John Kelly could have said "They're a zingier B-52s!" Or some such thing. Plus, were the B-52s
Irish
? I think not! In 2005, the Chalets
won Best New Band at the Meteor Music Ireland Awards. This year, they've been nominated as Best Irish Band
. Clearly, Irish!
More to the point, while they may tend to remind people of other groups -- sometimes very different groups (hence the "heated argument") -- I think they have a reasonably distinct (and infectious!) sound. They remind me
somewhat
of Blondie, The Brunettes, Stars, and B-52s, while not sounding all that much like any of them. They're also a lot of fun. Their lyrics are wonderfully tart, often as sour as their music is sweet and fizzy.
I first heard of the Chalets when
Eddie Argos, Art Brut's frontman (as the kids say), told me he had learned to play one of their songs on the xylophone
(an endorsement in itself, as he was a beginner on the xylophone). He asked if I'd heard of them, and said they were very good. So props to him, as I agree that they're very good. Hopefully it won't be too long before
Check In
is released in the States.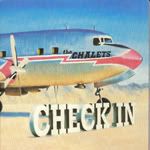 Streaming audio samples from
Check In
are available at
The Chalets' website
. The
video for "Feel the Machine"
is also available there.
Alas, their website is otherwise a bit "not dead, only resting" at the moment. Fortunately, the band member biographies that used to be there have been
saved for posterity at their Wikipedia page
.
"Beloved by all, his fan club boasts a membership in the tens of trillions. He is one of only two men ever to win both the Mister Universe Pagent and the Nobel Peace Prize for Physics in the same year. Generous to a fault, Enda is benefactor to many charities. Self-styled man of the people, Enda Loughman is one of the greats; An everyman. A philanthropist. A captain of industry. A true giant among men. Nah, just kidding. He's shite."
- from the official biography of Enda Loughman, guitarist for The Chalets
The Chalets - No Style
(a single, also from
Check In
)
The Chalets - Sexy Mistake
(from a double a-side 7" with "The Theme From Chalets", also from
Check In
)