Will Kimbrough - "This Modern World"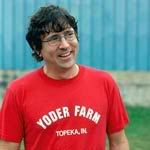 I recently got a tip about a cool song, called "This Modern World" by
Will Kimbrough
. His bio is headlined
Who the f*ck is Will Kimbrough?
so he likely doesn't expect you to have heard of him.
Yet he's an "astounding, in-demand guitarist (Americana Music Association Instrumentalist of the Year), a producer, and creator of timeless songs in both pop motifs and dusty Americana" and "slowly, but surely, becoming a household word."
He has released three solo albums thus far. "This Modern World" is from the Jan of the bunch, if you will, 2002's
Home Away
. It was "discovered" through
Pandora
, which is
no stranger to me
, though I didn't find this song.
"This Modern World" was found through a search for songs similar to
Michael Penn
's "Walter Reed". Penn is currently working on a soundtrack, after which he'll work on some new songs of his own... sure, we have his many fine songs to revisit while we wait (especially those on
Resigned
), but of course we need new artists to dig too... plus, that increases the pressure on Penn to hurry it up with the new songs already.
Will Kimbrough - This Modern World
(from
Home Away
, and genuinely nifty)
Michael Penn - Walter Reed
(from
Mr. Hollywood Jr., 1947
, and also nifty)
Will Kimbrough's Tour Dates:
(quotes are from Kimbrough)
May 13 - San Marcos, TX - Cheatham Street ("1st Annual Hil Country Messaround!" There is really no such thing as a "first annual" anything but a "messaround" should be good fun nonetheless!)
May 19 - Sweden - "Prison" (yes, an actual prison gig)
Swedish Tour Dates with Willy Clay Band
May 20 - Norrtalje - Gamla Stans Tradgard
May 21 - Orebro - K5
May 22 - Stockholm - Mosebacke
May 23 - Uppsala, Sweden - Katalin
May 24 - Malmo - Nya Trols
Tour Dates with Kate Campbell:
May 26 - Bedford, UK - The Star Club
May 27 - Rhayader, Wales, UK - Carad
May 28 - Maidstone, UK - Soul Cafe
May 30 - Edinburgh, Scotland - The Pleasance
May 31 - Glenfarg, Perth, Scotland - The Bein Inn
June 1 - Newcastle-On-Tyne, UK - The Cluny
June 2 - Claygate, Outer London - The Ram Club
June 4 - Cromore Halt, No. Ireland - Portstewart Music Station
June 5 - Strabane, Co Tyrone, Ireland - The Allstar Club
June 6 - Newry, No. Ireland - Frontier Music Club
June 7 - Belfast, No. Ireland - Errigle Inn
June 8 - Derry, Ireland - The Derry Playhouse
June 9 - Nawl, Ireland - Seamus Ennis Centre
June 16 - Gulf Shores, AL - Lulu's ("This may be a band show; I'm working on it!")
June 25 - Eddie's Attic Atlanta, GA w/Amy Loftus
July 29 - Nashville, TN - The Basement (
Americanitis
Release Show with band)
August 19 - Harriman, TN - Mucklewain Festival (booked as solo show at the moment)
September 1 - Camp Mather, CA - Strawberry Music Festival ("w/Rodney; looks like I'll get to play a set, stay tuned!")
September 3 - Big Bear Lake, CA - Heritage Days Festival (w/ Rodney; I plan to open the show)
September 4 - Nicasio, CA - Rancho Nicasio ("w/ Rodney; I will open")
September 16 - Nashville, NC - Rose Hill Plantation ("w/ Rodney; I will open")
September 22 - Nashville, TN - Ryman Auditorium - Americana Music Association Awards show ("w/Rodney")