Uncut: June Playlist CD/Stone Roses Interview Excerpt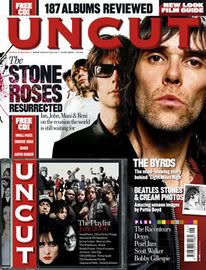 "The Stone Roses Resurrected" is the cover story of the June 2006 issue of
Uncut
. Given
last month's Morrissey cover
and the (misleading) word choice "Resurrected" for this month's cover, Uncut is getting quite holy on us. Thank, er, goodness, we have
Q
to even things out with their
Songs about Satan playlists
.
The word "Revisited" would have been more accurate, as Uncut primarily interviews the blokes about their history, although they do ask about the possibility of a reunion (before being informed is very unlikely indeed).
Ian Brown
says the band was offered five million pounds for 40 shows last year. He explains why, then, the band is not presently touring, "I've got three kids so that's a serious thing to me, but then I look at it and think: every band reforms for the money... we weren't ever in it for the money. It wouldn't make me happier. I can only eat a meal a day. I'm not into flash cars; I've got a nice house."
In response to
John Squire
's claims last year that the Roses were reuniting, Brown says, "it seems a bit crazy" of Squire to say so "without phoning me up". He tells Uncut, "I don't love him. I used to love him. I think his decisions were made with a coked-up head so I don't hold any bitterness 'cos I know, inside, he's a nice guy." Nevertheless, he says "I've still got the knife in my back." He loves the "total artistic freedom" he's had and all the different musicians he has been able to work with, since leaving the Stone Roses. In other words, even if the other guys really, really, want to reunite the old band, his lack of interest in flash cars and
multiple
nice houses is costing everyone an "only in it for the money" tour.
John Squire notes that Brown "keeps slagging" him off in interviews, and seems to see the writing on the wall. So he helpfully throws fuel on the fire by describing Brown's singing of some Stone Roses tunes as "awful" during the recent NME Awards show (where Brown was awarded a Godlike Genius award - there's that religious theme in the UK music scene again.)
When asked whether he'd like to "get in a room and just shake hands" with Brown, Squire replies, "Yeah, maybe. Why not? I'd like to be friends again. Let's see where we are after 10 years."
Mani Mounfield, now bassist for
Primal Scream
, is not the obstacle here. One last tour? He's there. A gig for charity? Okay. When told Brown was skeptical the Roses would reunite for charity, Mounfield says he would "in an instant" and is "sure" John and Reni also would.
Drummer Reni Wren did not respond to Uncut's requests for an interview. In 2005, his response to the reunion question was, "Never say never... but it won't be this year." At last, an answer we know is accurate.
The Stone Roses - I Wanna Be Adored
(from
The Stone Roses
)
Uncut The Playlist June 2006 Track Listing:
1. Shack - Working Family
2.
The Waterboys - We Will Not Be Lovers
(from
Fisherman's Blues: Collector's Edition
. The album was originally released in 1988 and includes "And A Bang On the Ear", another especially great track)
3. The Handsome Family - Tesla's Hotel Room
4. Siouxsie & The Banshees - Monitor
5. Chris Hillman - Eight Miles High
6.
Hot Chip - The Warning
(from
The Warning
)
In the song, Hot Chip threaten to snap off your head, but this is obviously some harmless slang the kids are using nowadays. Hey, "bust a groove" might have sounded violent and scary to some unhip oldsters who weren't all in the know with how kids really talk. Likely, in the UK, nowadays, they threaten to break each-other's legs (as Hot Chip also threatens) as a form of greeting. This might be why the music mags feel the kids need religion, but if heads aren't actually being snapped off, let's not panic.
Remember how baby-faced the Beastie Boys looked back when they were yelling "Kick it!" in that one video... the one for the song about how you had to "Fight for your right to party"? Hey, pretend you remember. You've at least seen the video, dammit. Little help here.
This Hot Chip song reminds me of the young Beasties, only set to decidedly more gentle music, with much more of a synth-pop direction.
7. Daniel Johnston - The Beatles (Daniel Johnston's great, but this is not one of my favorite tracks of his)
8. Augusto Pablo Meets Lee Perry & The Wailers Band - Satisfy My Soul Dub
9.
Jarvis Cocker & Kid Loco - I Just Came To Tell You That I'm Going
(Serge Gainsbourg cover, original title "Je suis venu te dire que je m'en vais" from the compilation
Monsieur Gainsbourg
. Jarvis Cocker does the singing here)
10. Mercury Rev - Coney Island Cyclone
11. Fiona Apple - Parting Gift (nothing especially to say here, as you likely have already heard this song if you have any interest in Fiona Apple, who is rather well-known. But that part a couple lines up about the Jarvis Cocker track meant that it's automatically worthy of at least a listen. Plus, he's singing an English translation of a French song, by Serge Gainsbourg, which is also interesting)
12. The Small Faces - Son Of A Baker
13.
Al Green - Love And Happiness
(from
Love And Happiness: The Very Best Of Al Green
. Hey, it's Al Green... cool, sweet, and balances the Waterboys tune, which is swell, but hardly hopeful)
14.
Roddy Frame - Shore Song
(from
Western Skies
. Lovely, or, if you do not like lovely songs, wimpy)
15. Dirty Pretty Things - Blood Thirsty Bastards
16. The Fiery Furnaces - Teach Me, Sweetheart