CMJ Magazine and CD: Issue 139
Wolfmother's on the cover of the latest issue of
CMJ New Music Monthly
. Evidently they're turning "classic rock irony upside-down." And I think we all know just how painful
that
can be.
In addition to Wolfmother, this issue includes interviews with Black Heart Procession, Murder By Death, the Fever, Spank Rock, Danielson Famile's Daniel Smith, and Juana Molina.
Also catching the attention of CMJ this month:
*
Harry Shearer
's new DVD, "Now You See It", including Saturday Night Live and HBO clips. As CMJ points out, "Basically, it's worth it just to have the Olympic synchronized swimming skit." Shearer also has released a new parody CD,
Dropping Anchors
.
*
CDwalltiles
- if you can get past the "why didn't I think of selling those?" factor, you might appreciate these more. CDwalltiles hold CDs - including double CDs - in their jewelcases, so you display the art on your wall while retaining access to the music.
They also just might people in the mood for "getting busy". Note: other factors, such as, but not limited to, your taste in music, might impact the odds of CDwalltiles helping you "get busy".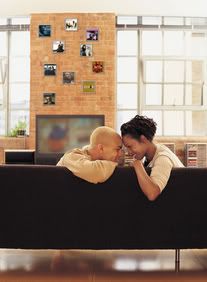 In addition to their regular section of reviews, CMJ now has "Abridged Too Far: Reviews In Brief" in which they give each artist's work a green ("Curly"), yellow ("Shemp"), or red ("Joe Besser") rating and dedicate a paragraph, or in a few instances, a single sentence to their opinion of it. The single-sentence reviews aren't quite a shining example of real rock criticism. They don't review the work; they're just dismissive of it without explanation, as though their word should be sufficient without any need to waste words on reasons.
Christopher R. Weingarten's review of Melvins'
Houdini Live 2005
: "If you're the type of guy that'll buy anything with the word 'Melvins' on it, this review is just to let you know this exists."
He could have written that review without listening to a second of the album. It's rated "yellow", so apparently he didn't think it was awful, if he even listened to it. If he didn't, the write-up doesn't belong in the reviews section, and the album shouldn't have been given a rating. I guess I'm the type of "guy" who's unimpressed by this type of review.
CMJ New Music Monthly Issue 139 CD Track Listing:
1. Wolfmother - Woman
2. The BellRays - Tell the Lie
3. Margot & The Nuclear So & So's - Skeleton Key (
previously posted
)
4.
The Appleseed Cast - Here We Are (Family in the Hallways)
(from
Peregrine
)
5. Lashes - Sometimes the Sun
6. Blow Up Hollywood - WMD
7. Mellowdrone - Oh My (
previously posted
)
8.
Mat Kearney - Nothing Left to Lose
(from
Nothing Left to Lose
)
9. Gus Black - Certain Kind of Light
10. Umphrey's McGee - Nemo
11. Mountain Coin - The Escape Artist
12.
Controlling The Famous - Two Sides
(from
Automatic City
)
13. The Ragbirds - Believe It
14. The Beat Club - Automate Destruction
15. Peter Walker - What Do I Know (available at CMJ.com, see below, and highly recommended)
16.
Persephone's Bees - Nice Day
(from
Notes From The Underworld
)
17. Eric Lindell - Give It Time
18. Bunker Soldier - Darkness Falls
19. Gary Reynolds & The Brides Of Obscurity - On the Radio
20. Arden Lo-Nu Jaz Orda-Biff - Drunk as a Skunk
21. Chilae - U Can't Handle It
Lots of free MP3s are available at
CMJ.com
, including the Peter Walker song on this month's CMJ CD.