NME Presents Festival: 15 Songs to Soundtrack Your Summer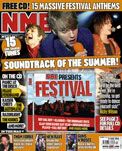 The current issue of
NME
includes
NME Presents Festival: 15 Songs to Soundtrack Your Summer
, the track listing of which is:
1. Kaiser Chiefs - Na Na Na Na Naa (Live)
2. The Automatic - On The Campaign Trail
3.
The Ordinary Boys - (Little) Bubble
(B-side to "Talk Talk Talk" single)
4. Boy Kill Boy - Killer (Demo Version)
5. 747s - Missed That Sun
6. Panic! At The Disco - The Only Difference Between Martyrdom And Suicide Is Press Coverage
7. Razorlight - Leave Me Alone (Live)
8. Fall Out Boy - Our Lawyer Made Us Change The Name Of This Song So We Wouldn't Get Sued
(if you hear their band's lawyer has sued them for defamation, it's probably a publicity stunt)
9.
Franz Ferdinand - Outsiders (Live)
(the original version is available on
You Could Have It So Much Better
)
10. The Cooper Temple Clause - Damage
11.
Howling Bells - Low Happening
(from
Howling Bells
. Good song, but in their native Australia, it was more like part of the the
soundtrack for spring
. Can this CD be trusted?)
12. Archie Bronson Outfit - Got To Get (Your Eyes) (with a title like that,
no
)
13. Clap Your Hands Say Yeah - Upon This Tidal Wave Of Young Blood (
abandon all hope
!)
14. Plan b - Kidz (Acoustic)
15.
Klaxons - Gravity's Rainbow (Van She Remix)