Scott Huckabay at Bala Yoga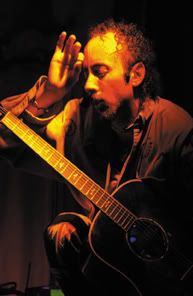 Scott Huckabay
at
Bala Yoga
, 6/16
Many guitarists merely strum or pick at their guitar strings when they play. Why not take a violin bow to them every now and again? "Guitar Alchemyst" Scott Huckabay did that and used many other techniques you don't see everyday during his
Spirit Moves
show at Bala Yoga. He seemed determined to soak every bit of musical potential out of his guitar. He's put
something
in it enabling him to shake it for a rattle-like effect. Huckabay used the guitar's wood to achieve a variety of sounds (kids: you too can sound like a dolphin. All you need is a bit of saliva on an index finger, a guitar, and, probably, some practice).
Huckabay does actually strum the strings of his guitar, too, though with an unusual amount of talent and sometimes with a
very
unusual amount of speed, his fingers a blur on the strings. Songs ranged in tempo but were almost always quite catchy (the exception: the last song of the night). Huckabay's use of an
E-bow
and bands of bells worn on each ankle (one with shells, one without) made the show more lively and very entertaining. They also kept Huckabay busy, which seems necessary, given his high level of energy. Thanks to the yoga studio setting, the somewhat New Age-y introductions for a few songs probably went over better with the large crowd than they might have at, say, a Young Republicans meeting.
Huckabay's ability to seemingly go into his own creative zone while playing can be a big asset, but it was occasionally a hinderance. During one song, he wandered into the crowd to serenade several people. Huckabay's focus on the music, while understandable, detracted from the performance as it wasn't always clear that he was paying attention to where he was walking and swinging his guitar. Also, given the choice between being serenaded while sitting at a table and sitting on the floor, I'd pick the former. Given my druthers (and please do give them back), I'd pick neither, but I especially felt for the poor, shoeless folks who were serenaded to by a comparative giant.
More notably, during the last song of the evening, "Secret Portal", Huckabay was joined by a female singer and a male hand drummer, who he repeatedly motioned to stop performing so he could go on obviously improvised, long jams without accompaniment. Why call other performers to join you and then hold them hostage to lengthy solo jams? Here my discomfort was initially for the other musicians, then for them as well as for the audience, then for Huckabay as well, who seemed to only have the best of intentions.
This was not like an improvised Slow Music set, where the
applause of a single audience member has been taken as a cue to move on
. At a point where several endings had come and gone, it seemed as though
the
end had come at last and many people applauded. Sure enough, it was not yet over. Huckabay truly seemed deeply into his own creative experience, and not operating from arrogance. Still, his colleagues showed some fatigue and irritation after they had been given "stop" and "start" hand signals for a while, and he didn't seem to notice. Giving the others a chance to shine would be nice too, as long as they've been invited to share the spotlight. Else, why share it? It was more than worth the last song for the exhilarating fun and amazing music of the rest of the show.
Music clips from Scott Huckabay's five albums are available at his
website
.
Scott Huckabay's
Tour Schedule
:
7/1 - Las Vegas, NV - Lassen Galleries (special performance) - 8 PM
7/4 - Yachats, OR - Yachats Commons - 7:30 PM
7/9 - Veneta, OR -
Oregon Country Fair
(Energy Park Stage) - 6 PM
7/12 - Detroit, OR -
Breitenbush Hot Springs
- 8 PM
7/15 - Bend, OR -
The Grove
- 9 PM
7/16 - Ashland, OR -
Ashland Summer Music Festival
- 9 PM
7/20 - Mt.Shasta, CA - Flying Lotus Movement Center (315 S. Mt Shasta Blvd) - 9 PM
7/28 - Eugene, OR -
Cozmic Pizza
- 9 PM (8th & Charnelton)
7/29 - Veneta, OR -
FaerieWorlds Festival
(Secret House Winery) - 2:30 PM
8/5 - 8 PM, mainstage. For more info: Island EarthFair Vashon Island, WA -
Island EarthFair
8/12 - Vashon Island, WA -
Bishops
- 8 PM
8/26 - Bodega Bay, CA -
Bodega Bay Art & Wine Festival
- 11 AM & 2 PM
9/16 - Arcata, CA - Arcata Country Fair
9/17 - Laytonville, CA -
Earthdance