Q Magazine: Mellow Gold CD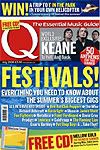 Purchase the July
Q
in the UK and the cover looks as pictured above, with the mag's festival coverage the main focus. An interview with Keane is also highlighted, and the band is pictured (albeit in a smaller size than most Q cover subjects). Buy this Q in the States and you get a rather unflattering photo of a vacant-looking James Blunt with the cover line: "James Blunt: 'There's 53 ways I could kill you.'"
In context, what he actually said in the interview:
(Q is asking Blunt about his time serving with the NATO-led forces in Kosovo)
How does it feel to be shot at?



You expect to be in a war zone. It's interesting. You hope that instinct kicks in. I was always happily surprised at how well the training does actually work.



Could you still kill someone with a spoon?



Throughout this interview I've been assessing you and all the various instruments around you, and I've found 53 items with which to destroy you if you ask the wrong question.
The actual line might not sound as menacing (or obnoxious), but at least it's accurate (assuming Q transcribed it correctly).
Q lists 50 summer anthems in this issue, but at first glance the list didn't impress me by including 10 songs each from the Red Hot Chili Peppers and the Who. More interesting is some quirky content in the mag, such as their recommendation of an
MP3-playing Swiss army knife
as an "essential buy". It's probably essential partly because it could help you destroy someone in a couple dozen ways (if you needed to, strictly to save your own life).
If you ever have to do that with your MP3-playing Swiss army knife, and the person you're destroying happens to be Tom Jones, he's helpfully listed the last ten songs he wants to hear before he dies. The top three: #1: his own "It's Not Unusual", #2: Prince's "Little Red Corvette", #3: Aretha Franklin's "I Never Loved A Man (The Way I Loved You). (He's trying to
kill
you; don't take the time to play him more than three songs)
Included with this month's issue:
Mellow Gold
, a compilation of "15 Soothing Sounds For Summer".
Q Mellow Gold Track Listing:
1. Elliott Smith - A Fond Farewell
2. Sondre Lerche - Track You Down
3. Death Cab For Cutie - Summer Skin
4.
Clayhill - One Nerve
(available on
Mine At Last
)
5.
I Am Kloot - From Your Favorite Sky
(available on
I Am Kloot
)
6. Shack - Shelly Brown
7. Billy Bragg - Walk Away Renee (Version)
8. Evan Dando - Shots Is Fired
9. Big Star - Thirteen
10.
David Kitt - Dancing In The Moonlight
(Thin Lizzy cover, available on
The Black And Red Notebook
)
11.
Chris Bell - I Am The Cosmos
(available on
The Big Star Story
)
12. Neko Case - John Saw That Number
13. Wilco - Jesus Etc. (Live)
14. The Tenderfoot - Still Holding My Stomach In
15. Jim Noir - Turn Your Frown Into A Smile