Wham May Briefly Reunite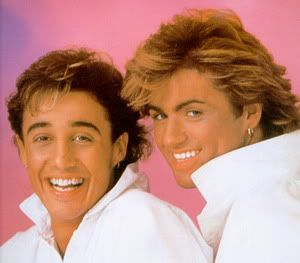 A Wham reunion of sorts may be in the works, though the plan for a few heart-rending minutes of shimmering pop can just barely be called a reunion.
George Michael
has said he intends to
invite former bandmate Andrew Ridgeley to sing "Last Christmas" with him
at his Wembley concert in September.
A reunion is not a given. Even if he's interested,
Andrew Ridgeley
may not be available. For one thing, he's active in the nonprofit group
Surfers Against Sewage
and they have events planned for September.
Or he may think a one-song reunion isn't worth the drive over to Wembley Stadium, at least not for the song
"Last Christmas"
. While it was a very popular song, if there's going to be a Wham reunion, and it's limited to one tune, that's not the song to perform. You bring out "Young Guns (Go For It)". Or "Bad Boys". "Wham Rap" would be perfectly acceptable. "Last Christmas" is not an adventurous choice. It just says they're not young guns anymore. Say it ain't so, George.
Wham - Young Guns (Go For It)
(available on
The Best of Wham!
)
Wham - Bad Boys
(available on
The Final: Best of the Best Gold
)