The Pipettes Have Opinions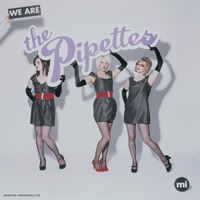 With
Mogwai
acting almost meek and mild lately, it leaves a void in the trash-talking-bands department.
Enter
The Pipettes
, brash , bold, and ready to criticize loads of people and bands! They're not fond of
the Kooks, Razorlight, Pete Doherty, or Dirty Pretty Things
, for starters. Dirty Pretty Things were branded "the worst band in the world" by the Pipettes' RiotBecki during a radio interview, while the Kooks were criticized for treating a concert in
the Pipettes'
hometown of Brighton as if it was the Kooks' hometown too.
They feel Arctic Monkeys and Hard-Fi's
lyrics are "quite chauvinistic."
Also, they find Arctic Monkeys "completely over-stylized." They're not taken by Kate Moss or Peaches, either, but they do "respect Debbie Harry."
As for the Beatles... the group's RiotBecki says,
"Pop music was so vast until they appeared, then all music seemed to need boys with guitars!"
The Pipettes - Dirty Mind
(available on
We Are The Pipettes
)
The Kooks - Seaside
(available on
Inside In/Inside Out
)