Uncut August Playlist CD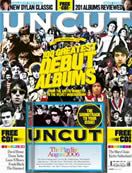 The cover story on August's
Uncut
is their 100 Greatest Debut Albums List (more on
that
later). Also in this issue: an album-by-album look at Krautrock group Can, photos from David Bowie's 1973 trip from Paris to Dover after the Ziggy Stardust world tour, and Frank Black answers questions from "readers and famous fans". Hard-Fi's Richard Archer, Pere Ubu's David Thomas, Super Furry Animal's Gruff Rhys, and The Futureheads' Ross Millard are the "famous fans".
Along with the mega-debut-albums-list, there are some fun shorter lists, and as usual, the issue includes a Playlist disc with an eclectic mixture of music old and new.
Uncut: The Playlist August 2006 Track Listing:
1.
Blood Meridian - Your Boyfriend's Blues
(on
Kick Up The Dust
, which is out now in Canada and will be released August 8th elsewhere. Short track about a man determined to sleep with another man's girlfriend. It's unclear whether she has any feelings at all for him, possibly making this "a short, creepy track")
2. The Velvet Underground - Venus in Furs
3. Love Is All - Talk Talk Talk Talk
4. Pere Ubu - The Modern Dance
5. Sufjan Stevens - The Avalanche
6. Lily Allen - Knock 'Em Out
7.
Golden Smog - Listen Joe
(available on
Another Fine Day
. Beautiful, sad duet by Jeff Tweedy and Gary Louris)
8. The Damned - New Rose (Live)
9.
James Dean Bradfield - Say Hello To The Pope
(available on
The Great Western
. He's a talented bloke, and capable of better - I like "Emigre", his first single off
The Great Western
. Creative title aside, this one feels formulaic and half-baked)
10. Ali Farka Touré - Beto
11. The Pastels - Classic Line-Up
12. The Allman.Bros - Little Martha
13.
The Russian Futurists - 2 Dots on a Map
(available on
Me, Myself and Rye
. The start and end are a bit abrupt, but this is is quite sweet and touching: "I'm asking and yearning for you to connect those dots/Because we're wasting our lives and the space between us sings/And if we knew we were dying is this how we'd leave things?")
14. Eric Clapton - Slunky
15. Espers - Mansfield and Cyclops
16.
The Jesus & Mary Chain - You Trip Me Up
(available on the remastered reissue of
Psychocandy
. A classic.)