The UK Embraces Swedish Alt-Pop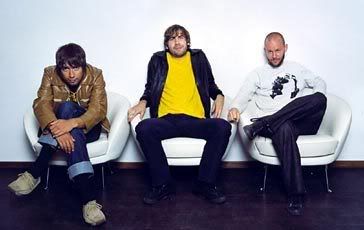 Don't tell
the Cardigans
or
the Hives
but it's only just now that
Swedish alternative music is becoming

really

popular in the UK
.
According to
The Guardian
, while Swedish groups had found popularity in the UK before, the degree of enthusiasm for Swedish alt-pop/rock is now at an unprecedented and impressive level. There are now at least three Swedish music club nights in the UK, and Swedish alt-pop compilations are in the works.
Nick Levine, who promotes "Tack!Tack!Tack!" a Swedish club night in London, admits part of the music's appeal stems from how new the groups are; it's considered cool that they're not very well-known yet. He also says Swedish groups "have an ability to pluck out all the best bits from western cultures and put a new, poppy slant on it."
Swedish label
Labrador Records
attributes much of their success to Internet downloading and subsequent word of mouth. His label offers
free MP3s
of songs by every artist on its roster. Many of the songs are at high bitrates, too. Labrador bands include the Legends, Sambassadeur, Acid House Kings, and Suburban Kids With Biblical Names.
Another Swedish label,
Hybrism
, boasts
its own blog
, which lists five Hybrism sites in its links section. It's an interesting idea, but all the material on a marketing blog could be easily accessible on a well-designed label website. At some point, the plethora of overlapping sites becomes confusing and likely stretches resources thin at some labels.
Blog-wise, I'd rather visit
Swedesplease
for my Swedish music needs.
In July, the Guardian spoke with Swedish group
Peter Bjorn And John
about
their third album,

Writer's Block
, which the paper called "delicious". The first single from
Writer's Block
, "Young Folks", features the Concretes' Victoria Bergsman and plenty of whistling. Bongos too. The Guardian deemed it "irresistible".
Bjorn Yttling, who plays keyboard and bass, in addition to supplying the group with its Bjorn, says the song is "groovy and melancholy at the same time," and perhaps he could just as easily be referring to many other Swedish alt-pop tunes. There's often something appealing about a contrast, as in the discord between dark lyrics and upbeat music. That will hold true even after club nights move on to a new, trendier country.

Peter Bjorn And John - Roll The Credits
(available on
Writer's Block
)
Peter Bjorn And John's
video
for "Young Folks", featuring Victoria Bergsman of
the Concretes
:
Sambassadeur - New Moon
(available on
Sambassadeur
)
Hell on Wheels'
video
for "Alexandr"... the UK adores it when Swedes sing about a "true Russian hero":