The 100 Best-Selling Albums in The U.K.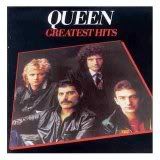 The Official UK Charts Company
has compiled a list of the
100 best-selling albums in the U.K.
, and The Beatles aren't on top.
Queen
's 1981
Greatest Hits
has sold 5,407,587 copies, putting it well ahead of
Sgt. Pepper's Lonely Hearts Club Band
, which has shifted 4,803,29 units. Oasis' are right behind their idols with
(What's The Story) Morning Glory
, which has sold 4,304,504 copies. Dire Straits'
Brothers In Arms
and Abba's
Gold
round out the top 5.
Queen has one other album on the list, another greatest hits album at number 7. The Beatles have two other albums on the top 100. Unsurprisingly, the list is chock-full of best-of and greatest hits albums.
Perhaps more surprisingly, if you don't have your finger on the pulse of the UK pop music scene, is the impressive showing by
Robbie Williams
: he has six albums in the top 100 (30, 49, 51, 58, 60 and 61). He's released 10 albums altogether, and the last two (released this year and in 2005) seem certain to make the top 100 as well.
Only two albums by Madonna made the list (
The Immaculate Collection
and
True Blue
). R.E.M. also managed two slots, with
Automatic For The People
and
Out Of Time
. Michael Jackson topped them with three (
Bad
,
Thriller
, and
Dangerous
), but he's still no Robbie Williams.
This is apparently the
first time a top 100-selling albums list has been compiled
. The list has so many recent albums, what would it have looked like five years ago? Or ten years ago?
So many questions... like... what, exactly is
The Colour Of Celine Dion's Love
? She said it's her manager/husband which is helpful to a degree, but is "the colour of her love" supposed to represent him, or, more likely, is it a Celine-centric concept? Does it symbolize either his feelings for her or something about their epic love story together? I need more to go on before I can visualize the right color. Wouldn't want to imagine the color of her love as umber when it's really ochre.
Three Celine Dion albums notwithstanding, there's a lot to be said for this list. Some very deserving artists are nowhere to be seen, and it's a bit sad that some of their lightweight counterparts have sold so many albums. Still, there are good artists selling a huge number of albums in the UK, and that's reassuring. Moby and Travis are on the list. David Gray's
White Ladder
is at #20 (granted, that's more pleasing if you don't notice James Blunt right above him). Stereophonics is a good band, and if you're shopping for a pop star, you could do a lot worse than Robbie Williams... This is especially true if you're from the U.K., given his propensity to use words like "plummy" in his lyrics. That may confuse Americans while making the U.K. love him more.
In the UK, on Saturday the 18th, VH1
will air

Nation's Favourite Album
, a special on the top albums list.
The UK's 100 Best-selling Albums:
1 Queen -
Greatest Hits
(5,407,587 copies sold)
2 The Beatles -
Sgt. Pepper's Lonely Hearts Club Band
(4,811,996)
3 Oasis -
(What's The Story) Morning Glory
(4,314,715)
4 Dire Straits -
Brothers In Arms
(3,956,704)
5 Abba -
Gold: Greatest Hits
(3,943,950)
6 Pink Floyd -
The Dark Side Of The Moon
(3781993)
7 Queen -
Greatest Hits II
(3,644,619)
8 Michael Jackson -
Thriller
(3,578,107)
9 Michael Jackson -
Bad
(3554301)
10 Madonna -
The Immaculate Collection
(3,402,160)
11 Simply Red -
Stars
(3,361,115)
12 Shania Twain -
Come On Over
(3344280)
13 Fleetwood Mac -
Rumours
(3,135,844)
14 Verve -
Urban Hymns
(3,054,374)
15 Dido -
No Angel
(3002194)
16 Simon & Garfunkel -
Bridge Over Troubled Water
(3,001,062)
17 Corrs -
Talk On Corners
(2944547)
18 Spice Girls -
Spice
(2,920,669)
19 James Blunt -
Back To Bedlam
(2,895,874)
20 David Gray -
White Ladder
(2851429)
21 Meat Loaf -
Bat Out Of Hell
(2,837,285)
22 Dido -
Life For Rent
(2,789,719)
23 Phil Collins -
But Seriously
(2737932)
24 The Beatles -
1
(2,690,318)
25 Travis -
The Man Who
(2,669,825)
26 U2 -
The Joshua Tree
(2665553)
27 Abba -
Greatest Hits
(2,598,576)
28 Mike Oldfield -
Tubular Bells
(2,575,099)
29 Coldplay -
A Rush Of Blood To The Head
(2,574,249)
30 Robbie Williams -
I've Been Expecting You
(2,556,042)
31 Alanis Morissette -
Jagged Little Pill
(2,551,238)
32 Scissor Sisters -
Scissor Sisters
(2,535,983)
33 Bob Marley & The Wailers -
Legend
(2520486)
34 Keane -
Hopes And Fears
(2,498,950)
35 Jeff Wayne's Musical Version -
War Of The Worlds
(2,452,236)
36
The Sound Of Music
Original Soundtrack (2,438,695)
37
Dirty Dancing
Original Soundtrack (2435109)
38 George Michael -
Ladies & Gentlemen: The Best Of George Michael
(2,408,810)
39
Grease
Original Soundtrack (2,373,621)
40 Norah Jones -
Come Away With Me
(2369847)
41 Coldplay -
X & Y
(2,345,126)
42 Tracy Chapman -
Tracy Chapman
(2,342,506)
43 Robson & Jerome -
Robson & Jerome
(2,336,086)
44 Fleetwood Mac -
Tango In The Night
(2,333,819)
45 Coldplay -
Parachutes
(2,324,783)
46 R.E.M. -
Automatic For The People
(2,270,332)
R.E.M. - Try Not to Breathe
(available on
Automatic For The People
)
47 Whitney Houston -
Whitney
(2237603)
48 Eminem -
The Marshall Mathers LP
(2,233,158)
49 Robbie Williams -
Swing When You're Winning
(2205028)
50 Paul Simon -
Graceland
(2,203,381)
51 Robbie Williams -
Sing When You're Winning
(2182097)
52
Saturday Night Fever
Original Soundtrack (2,151,142)
53
The Bodyguard
Original Soundtrack (2138030)
54 Elton John -
The Very Best Of Elton John
(2,134,524)
55 Tina Turner -
Simply The Best
(2,121,000)
56 Kylie Minogue -
Kylie
(2105698)
57 Celine Dion -
Falling Into You
(2,093,363)
58 Robbie Williams -
Life Thru A Lens
(2,074,860)
Robbie Williams - Lazy Days
(available on
Life Thru A Lens
)
59 Eurythmics -
Greatest Hits
(2055996)
60 Robbie Williams -
Escapology
(2037380)
61 Robbie Williams -
Greatest Hits
(1,998,668)
62 Celine Dion -
Let's Talk About Love
(1,984,152)
63 Michael Jackson -
Dangerous
(1983954)
64 Madonna -
True Blue
(1,961,164)
65 Guns N' Roses -
Appetite For Destruction
(1945240)
66 Phil Collins -
No Jacket Required
(1,934,912)
67 The Beatles -
Abbey Road
(1,925,783)
68 Simply Red -
A New Flame
(1923366)
69 Red Hot Chili Peppers -
By The Way
(1,915,008)
70 Lionel Richie -
Can't Slow Down
(1,891,896)
71 Maroon 5 -
Songs About Jane
(1,868,548)
72 Bon Jovi -
Cross Road: The Best Of Bon Jovi
(1,867,427)
73 Christina Aguilera -
Stripped
(1,850,852)
74 Simon & Garfunkel -
Greatest Hits
(1,840,454)
77 The Beautiful South -
Carry On Up The Charts: The Best Of The Beautiful South
(1,828,890)
76 Moby -
Play
(1,819,938)
77 Celine Dion -
The Colour Of My Love
(1,816,915)
78 Craig David -
Born To Do It
(1,816,781)
79 Texas -
The Greatest Hits
(1,809,480)
80 Nirvana -
Nevermind
(1,807,142)
81
South Pacific
Original Soundtrack (1,803,681)
82 Justin Timberlake -
Justified
(1,802,172)
83 Green Day -
American Idiot
(1,800,144)
84 Oasis -
Be Here Now
(1,799,784)
85 Lionel Richie -
Back To Front
(1,793,978)
86 R.E.M. -
Out Of Time
(1,786,954)
87 Katie Melua -
Call Off The Search
(1,780,817)
88 Kaiser Chiefs -
Employment
(1,772,936)
89 Boyzone -
By Request
(1,770,728)
90 Meat Loaf -
Bat Out Of Hell II
(1,745,974)
91 Oasis -
Definitely Maybe
(1,740,386)
92 Stereophonics -
Just Enough Education To Perform
(1,731,863)
93 Trent D'Arby -
Introducing The Hardline According To Terence Trent D'Arby
(1,721,685)
94 Pink -
Missundaztood
(1,712,173)
95 Avril Lavigne -
Let Go
(1,711,088)
96 Stereophonics -
Performance And Cocktails
(1,710,522)
Stereophonics - Pick A Part That's New (Acoustic Version
) (an acoustic version of a track from
Performance And Cocktails
, not on the album. From one of the "Pick A Part That's New" singles.)
97 George Michael -
Older
(1,708,555)
98 Blondie -
Parallel Lines
(1,694,353)
99 Kylie Minogue -
Fever
(1,682,387)
100 Jason Donovan -
10 Good Reasons
(1,680,651)