Garbage Plans New Single, Greatest Hits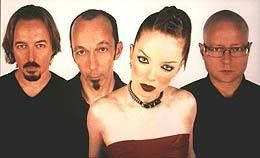 Sometimes divorced couples remarry, occasionally networks bring back programs they put on ice (congrats Studio- 80, is it? No, that's Star 80. Sorry, never seen the show. But congrats!)
And sometimes when a band like
Garbage
says they're
"on indefinite hiatus"
they really might return... at least long enough to record a new single.
Sound Generator
reports that Garbage will
release a single March 5
(at least in the UK), followed by
Absolute Garbage
, a greatest hits album, on March 19th.
The site also has what they call a "full" track listing for
Absolute Garbage
, and writes that based on a "glance" of it, they "believe" the new track won't be included on the album.
Both chronologically and as a cute joke, "It's All Over But the Crying" makes sense as the last track... unless the band's hiatus has ended, which it apparently has.
It's possible the single will be on the album but wasn't included on the track listing because it doesn't have a title yet, or the band isn't ready to reveal the title. Announcing the single is another publicity opportunity, and holding back a nugget of information amps up fans' curiosity. What's the title? Will it be a cover?
Sound Generator does note rumors of a new album in "late 2007" and it's also possible the single won't appear on the compilation because it's being saved for a forthcoming disc. Still... there has long been a steady drumbeat of Garbage rumors... talk of all sorts of things that haven't happened, from Shirley Manson recording a solo album to the band breaking up.
Hey, they didn't break up. "Indefinite hiatus". Completely different.
update, 11/10:
The new single
is untitled and will indeed be on

Absolute Garbage
.
Absolute Garbage

Track Listing:
1. Vow
2. Queer
3. Only Happy When It Rains
4.
Stupid Girl
5. Milk
6. #1 Crush
7. Push It
8. I Think I'm Paranoid
9. Special
10. When I Grow Up
11. You Look So Fine
12. The World Is Not Enough
13. Cherry Lips
14. Shut Your Mouth
15. Why Do You Love Me
16. Bleed Like Me
17. It's All Over But The Crying
18.
new track, currently untitled
More Garbage:
Garbage - Subhuman
(depending on where you live, you may have seen it on
a single, a B-side, or an album
)
Garbage - You Look So Fine (Fun Lovin' Criminals version)
(available on some versions of the "You Look So Fine" single)
The String Quartet - Only Happy When It Rains
(available on
The String Quartet Tribute to Garbage
)