T-shirt Turns Air Guitarists Into Musicians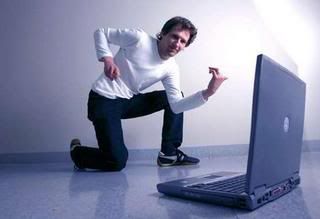 Scientists at the Australian
Commonwealth Scientific and Industrial Research Organization
have invented the Wearable Instrument Shirt, a long-sleeved
t-shirt that turns an air guitarist's strumming into real music
.
Sensors embedded within the shirt (or "WIS") allow the capture of every note, good or bad. They're connected to a wireless communications device and converted into sound with the help of software.
The cost of the WIS?
Five thousand dollars
. No, really, Dr. Richard Helner, the head of the research team that invented the musical garment (and a member of a band called madhouse) expects to
charge about two hundred dollars (Australian)
, because he says that's the starting price of a typical guitar. That's $152.45 in the U.S., £80.19 in the U.K., $173.62 for Canadians, or 189.70 Swiss Francs.
As much fun as this gizmo could provide, Helner points out its potential beyond the musical arena. "Intelligent clothing" could allow people to use computers without needing a mouse (particularly useful for people who are disabled). It could also prove useful in injury rehabilitation. Indeed, Helner says he got the idea for the virtual air guitar after seeing work on a knee sleeve to help injured athletes.
The CSIRO website has a few
demonstration videos
, including one with a brief interview with Helner. (The use of wacky video effects is most unfortunate) A few of the videos (including the interview clip) are also at
YouTube
:
This guy
is the
world champion
air guitarist. Anyone who gives him one of these shirts at some future Christmas or birthday is a villain. His moves are not meant to be converted into MP3s. Please, think of the children. And in a sense, aren't we all children?