Shortlist Music Prize Reveals Longlist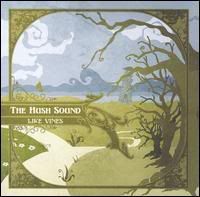 The
Shortlist Music Prize
, dedicated to honoring the "most creative and adventurous" albums of the preceding year to have sold less than 500,000 copies in the U.S., has announced a 60-album (Very) Longlist, the first since taking the previous year off. So perhaps they're sort of dedicated. Or maybe they were too busy with life or with
rocking
to weigh albums' comparative merits. Toe-may-toe, Toe-mah-toe?
A ten-album shortlist will be announced sometime or other in April (no date has been given); the winner revealed "later in the spring." This is a casual group. It's possible a guy wearing flip-flops will announce the shortlist. Or they could go casual, cutesy,
and
commercial and have him wear Shortlist Music Prize Shorts™ (thereafter available in a newly-created gift shop).
This year, Shortlist Music Prize Director Greg Spotts (on his own apparently) "decided to make the Listmaker panel somewhat smaller, focusing on artists who are a bit younger and edgier." Eek, way to make the past years' panelists feel ancient and unhip, Greg! What kind of lousy, unedgy selections were they starting to make to merit such concern and need for the publicly-announced change of course? Last time they went for
Illinois
by
gulp
, current panel member Sufjan Stevens.
Yikes
. Awkward.
Besides past winner Stevens, now out-of-favor, and KT Tunstall, the panel inclu- what? You don't consider her edgy? She might not help Spotts achieve his goal ("I want to make sure we stay close to the cutting edge rather than gradually drifting towards the center.")? You might have a good, edgy point. Tunstall only really liked 4 albums that sold less than 500,000 copies this year. Or at least she could have nominated 10, and opted to only nominate 4. And one of them was Joanna Newsom's
Ys
, so whether Tunstall's helped the Prize drift somewhere sharp or as soft as a knife made of Limburger cheese, it wasn't toward a better-sounding longlist.
The other 2006 "Listmakers" are Franz Ferdinand, Snow Patrol's Gary Lightbody, Panic! at the Disco, Rev. Moose (the Editor-In-Chief of CMJ New Music Report - as in the industry trade magazine not CMJ New Music Monthly), Toure, the Killers' Ronnie Vannucci, and Flaming Lips' Wayne Coyne.
Sufjan Stevens nominated a
project he collaborated on
, Danielson's
Ships
(as if to say "Take
that
, Spotts. Hope it's
edgy
enough for you."? Hard to say. Not to type, just hard to say as in "guess with any measure of accuracy.)
Stevens' other votes went to albums by The Blow (
Paper Television
), Dabrye (
Two/Three
), Kidd Jordan (
Palm of Soul
), Matmos (
The Rose Has Teeth in the Mouth of a Beast
), Midlake (
The Trials of Van Occupanther
), OOIOO (
Taiga
), and Serena Maneesh (
Serena Maneesh
).
The Blow seem unlikely to make it to the shortlist, Midlake and/or OOIOO much more so. Midlake received a lot of critical notice for
The Trials of Van Occupanther
, which could help land them a spot on the shortlist but their absence wouldn't shock. Japanese experimental rockers OOIOO (
Taiga
) may well have that edgy factor Spotts wants.
Snow Patrol's Gary Lightbody opted for Band of Horses'
Everything All The Time
, a very likely bet for the shortlist. He also tossed a vote to Beirut's
The Gulag Orkestar
, a critical favorite that would make an unsurprising shortlist pick, especially because Zach Condon, who records as Beirut, is quite young, and this apparently matters.
Franz Ferdinand's choices included The Gossip's
Standing In The Way of Control
and Country Teasers'
The Empire Strikes Back
.
The Gossip wouldn't be a cutting edge choice in the UK, but in the States, they probably are still considered sharper than a butter knife.
Panic! At the Disco's picks included Cursive's
Happy Hollow
, The Hush Sound's
Like Vines
, and The Velvet Teen's
Cum Laude
.
Among Rev. Moose's nominations: albums by Against Me! (
Americans Abroad Live in London
), Mohair (
Small Talk
) Kimya Dawson (
Remember That I Love You
), and Vaux (
Beyond Virture Beyond Vice
).
The Hush Sound - We Intertwined
(on
Like Vines
)
How did I manage to avoid hearing The Hush Sound until last night? Props to Rev. Moose, because I like their album very much.
"We Intertwined", with vocals by co-vocalist/guitarist Bob Morris, is a cheerful, piano-driven, utterly lovable love song, reminiscent of an upbeat Ben Folds Five tune. Also along those lines, another song I love: the bright, toe-tap-inducing "Sweet Tangerine". Another standout, "Lions Roar", reminds me instead of Beirut (the horns, the dramatic storytelling). These songs remind me of other groups I like in a pleasant way, not in a way that makes me think, "geesh, they're totally ripping off other bands."
Co-vocalist/pianist Greta Salpeter sometimes sounds like Paramore's young Hayley Williams in the pitch and sweetness of her vocals (this first struck me during "Lighthouse"). Every so often I think she might be on the verge of singing in too high a pitch ("You Are the Moon", the word "death" on "Wine Red", although it's possible her "death" is supposed to sound like that.) The rest of the time -- definitely the majority of the time -- I find her voice lovely. I've listened to "Sound A Dark Congregation" a few times only focusing on her vocals, which are so well-done.
While I enjoy "Like Vines" enough to have launched into a review of it within this post, I'm skeptical that it has either the critical momentum or the edgy/unusual obscurity to propel it to the shortlist. Try being more weird or incredibly critical popular next time, kids.
Mohair - Keep It Together
(on
Small Talk
) - Grand, dramatic, emotional, Brit. alt rock. Brings Snow Patrol to mind, but rockier, and with horns. "Life" is in a similar vein (minus the horns) and I think it might suffer from trying-too-hard syndrome, but I'm not sure yet; I'll give it more of a chance to grow on me (yes, it's another new-to-me Rev. Moose nomination.) Single "Stranded" is a straight-out super-catchy pop song à la The Upper Room. "L.A. Song" is not working for me. No matter what it professes "every town" is
not
a "country song title" in L.A. Please don't travel here looking for "Man In Black", "Coal Miner's Daughter", "Achy Breaky Heart", or, heaven knows, "Wide Open Spaces", particularly on the freeways packed with ever-increasing numbers of people who come here looking for that exotic country-song-title-lifestyle. Darn you, British alt-pop-bands! But seriously, a) if you're going to write a song about L.A., British people, please make it really good. b) They bash the money-seeking "rat race" in the song. A shortlist nomination would make them more money. So maybe they wouldn't want it.
OOIOO - GRS
(on
Taiga
)
Kind of a given to write "R.I.Y.L. Liars"; both groups have strong drums and sometimes a similar mood. You can tell OOIOO is quirky right at the name; it totally doesn't even look like a word. It's in all-caps and looks like a sound rather than a word. It's fitting; they mix and blend a wide variety of sounds, and their music doesn't resemble a typical song. They're different, and choosing the album for the shortlist may simultaneously let Sufjan Stevens feel he can identify edgy music and let Greg Spotts feel he has appeased Stevens for implying his Shortlist Prize win is a step toward centrist mediocrity.
Serena Maneesh - Sapphire Eyes
(on
Serena Maneesh
)
Another Stevens pick, also not exactly mainstream. More like a beautiful shoegaze epic (and another international pick; the group's from Norway).
And speaking of epic, this is turning into one. I'll predict Band Of Horses, Beirut, Midlake, OOIOO, and The Gossip make the shortlist, and leave it at that. Happy listening.