My Morning Jacket Encourages Robot Mermaid Outfits For 2-Night March Prom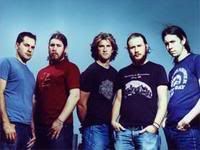 My Morning Jacket
is hosting a 2-night
Prom in Athens, Georgia
March 6th and 7th at the
40 Watt Club
. Doors will open at 9 PM(ish) both nights onto a whole new world of wonder and enchantment, a world only perhaps best described in the band's own words. They reveal that the "theme is a futuristic/retro under the sea vibe", which isn't very catchy, and will look a bit silly stretched across iridescent banners, but it does get the idea across.
The guys are new to this. They may only get better "as time goes by" (which is a more clssic Prom theme than "a futuristic/retro under the sea vibe" and fits better on a banner. Which theme is more fun: detectives/time or sea/robots? It's a classic question, rather like trying to choose between Blur or Oasis, Coke or Pepsi, Batman or Superman, Star Trek or Star Wars, po-tay-toe or po-tah-toe. So let's continue to debate the whole thing, long into the night. It's the only way we'll achieve consensus.
Of much greater, more fist-shaking importance is that this is not the first annual My Morning Jacket 2-night Prom, as it's being called (there's no first annual anything; they can only intend it to be annual at this point.) It's a good hint they intend to do this every year. The band already has a lot of the Prom fundamentals down, or at least the fundamentals of Prom as they experienced it, or wish they had. They promise/warn of "cake, balloons, fishnets, classic cars, chaperones, spankings, and a whole lotta shakin goin on - 2007 style upin this bitch ya'll." Sounds like 2 nights 2 special 2 B 4 got 10.
My Morning Jacket - Dancefloors (Live)
(on
Okonokos
)