Land of Gnomes and Ice Leads to Homemade Glassophones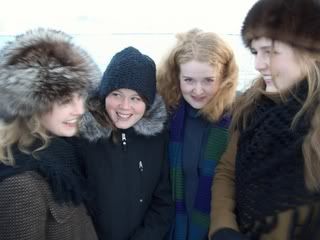 Sigur Rós's keyboardist Kjartan Sveinsson is married to violinist María Huld Markan, of Icelandic quartet
amiina.com
, and that might have something to do with why the groups have recorded and toured together, but Iceland's weird, man. They have a talented ambient music community because it's cold and desolate and there are gnomes everywhere. Therefore, amiina is 1) kind of weird and 2) doesn't need nepotism. And now they're about to release their first full-length album and about to embark on a solo U.S. tour.
I won't pretend to understand Iceland. Maybe when the temperature drops to an
extremely
low level, people start loving gnomes, and the presence of a lot of gnomes freaks people out and prompts wild bursts of creativity.
I've read Sigur Rós interviews in which they try to explain how the culture of Iceland inspires them. It's fascinating. The temperature, and low population are factors, as are the history and mythology of the place. Where any artist grows up and lives must influence them to some degree. It seems to be serving Sigur Rós and amiina well creatively, though it must cost them a fortune in gloves and hats.
The four women of amiina consist of three violinists and a cellist, but they employ a variety of other instruments as well, including, on their EP
AnimaminA,
"bells, electronics, harps and a homemade glassophone." (One homemade glassophone
sounds like this
.) On that EP they sometimes sound just a bit like
Psapp
(minus the vocals). Fans of
Andrew Bird
's quirky sound and unusual instrumentation also might like them, especially if they love the beauty in his music. Some of their songs have more of that quirkiness than others, but there's often a soft, ethereal beauty to their songs, at least on the EP.
amiina's debut solo album,
Kurr
, will be released March 21st on their own Bláskjár Records, although they're
"talking to some people who want to make it more widely available"
. It can be pre-ordered (for £9.99) from
their website
and will ship "on or before" the 21st.
The "Seoul" offers a first listen at the new album. It's also available from the website shop, as are that 2004 EP
AnimaminA
and an
£5.00 MP3 singles bundle
containing 7 tracks.
amiina - Hemipode
(on
AnimaminA
)
Artist website:
amiina.com
Label website:
workersinstitute.com/artists_amiina.html
(The Worker's Institute is their label worldwide for
AnimaminA
, which was initially self-released. In the U.S. they released "Seoul". See
amiina.com
for lots of information on who released what where, and where to order what, depending on where you are.)
amiina's Tour Dates:
March 21 - Madison - Café Montmartre
March 22 - Minneapolis - The Varsity Theatre
March 23 - Chicago - Lakeshore Theater
March 25 - Cleveland - Cambridge Room, House of Blues
March 26 - Detroit - Magic Bag
March 27 - Toronto - The Music Gallery
March 28 - Montreal - Le National
March 30 - Philly - World Café Live
March 31 - Boston - The Remis At Museum of Fine Arts
April 1 - DC - 9:30 Club
April 2 - NYC - The Wordless Music Series
April 6 - Cincinnati - Cincinnati Now Festival
April 9 - Seattle - Triple Door
April 10 - Portland - Doug Fir Lounge
April 12 - San Francisco - Swedish American Hall
April 13 - Los Angeles - Silent Movie Theatre
April 14 - San Diego - House of Blues - 5th Avenue Stage