Glasvegas at Amoeba Hollywood, 1/15/2009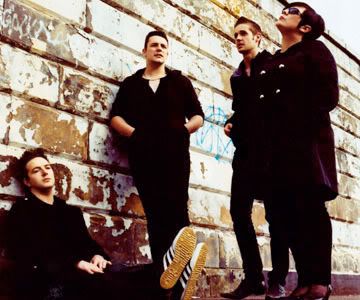 Glasvegas
took the
Amoeba Hollywood
stage late last night and may have regretted showing up at all. They already played their only other scheduled local show the previous night (and tickets for the Troubador concert had quickly sold out), everyone in the band, according to singer James Allan, was "hungover", and the set was hampered by persistent sound-mixing problems.
The crowd—which included touring partner Carl Barât (styled as
Jack White in the role of Capt. Jack Sparrow, recognized nonetheless)—wasn't given a real chance to hear what they truly sound like live or to see what they're like as performers (even in hungover/some-still-drinking mode.) That's a pity, but on the positive side: the band cared about the sound quality and played several still-obviously-good songs. The set was even fairly long for an in-store-5 songs, if you
don't
count second song, "Lonesome Swan", which Allan ended after 38 seconds, due to the sound issues.
("What's all this fucking noise, man?")
:
By fifth song ("Daddy's Gone"), the hungover crankiness and the "fucking noise"
had improved
, somewhat...
...which doesn't mean it was a
great
time for a
"Free Bird" request
:
Amoeba threatened to email those who purchased Glasvegas' debut album that evening an MP3 version of the show "after it's been mixed". Mixed by who? Will they include the "second song" and the "Free Bird" request? Will the engineer go for accurately conveying the sound of the show or sweetening it? I bought the disc that afternoon, evidently before clerks were given the info about the download offer, and didn't return to give my email address. My friend and I made an attempt to stay for the signing afterward, but the band was taking an unusually long amount of time to emerge, and I had visions of them eating burgers at the Jack In The Box across the street, while debating whether to return. So we made like trees and got out of there. Don't know about those burgers (alas, as a vegetarian, I never will), but the ratatouille just added to the menu at
Cafe Wa_s
is delicious.
Glasvegas is making like a tree and getting out of this continent. They'll return in March, playing
loads of dates
before and after. Ratatouille is a traditional French dish as well as an American animated motion picture.
Glasvegas Setlist, Amoeba Hollywood 1/15/2009:
1. "Flowers & Football Tops"
2. "Lonesome Swan" (James Allan cuts it early due to sound problems)/rant
3. "It's My Own Cheating Heart That Makes Me Cry"
4. "Geraldine"
5. "Daddy's Gone"
6. "Be My Baby"