Free Christmas CD for (Less Than) 48 Hours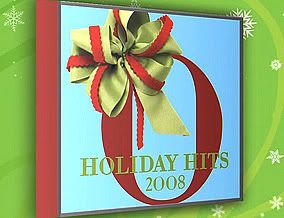 The country's beacon of goodness and light, Oprah Winfrey, tells us what to read, and kindly selected a President for us, but her generosity doesn't end there. Apparently, she dedicated an episode of her show to the topic,
"How to Have the Thriftiest Holiday Ever!"
yesterday, and part of that moneykeeping guidance involves offering us a free Christmas compilation download, available for a whopping 48 hours (the clock probably started ticking Wednesday afternoon.) Hey, record industry, Oprah is encouraging people to download a Christmas mix this year instead of buying a new album to fulfill our merry music needs. Shouldn't you be demonizing her?
The songs in Oprah's mix can only be downloaded individually (which is rather convenient if you're only interested in checking out one or two of the songs.)
The compilation is titled
Holiday Hits 2008
, but don't let the name fool you, it's chock-full of
Christmas
songs. Specifically, these ones:
1. Faith Hill - "Joy to the World" (from
Joy to the World
)
2. Tony Bennett - "I'll be Home for Christmas" (from
A Swingin' Christmas
)
3. Il Divo - "O Holy Night" (from
The Christmas Collection
)
4. Josh Groban - "It Came Upon a Midnight Clear" (from
Noel
)
5. Brian McKnight, "It's the Most Wonderful Time of the Year" (from
I'll Be Home for Christmas
)
6. Amy Grant - "O Come All Ye Faithful" (from
The Christms Collection
)
7. Harry Connick Jr. - "It's Beginning to Look a Lot Like Christmas" (from
What a Night! A Christmas Album
)
8. Aretha Franklin - "Silent Night" (from
This Christmas
)