What's the Greatest "I" Lyric...for a t-shirt?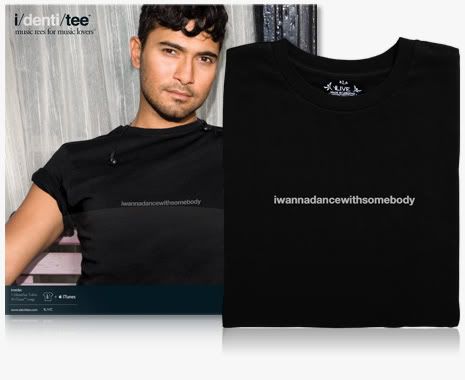 What's the "greatest" lyric starting with "I"? Say, while you're pondering, fancy an
"I" lyric t-shirt
? i/denti/tee is now selling a batch of 9 "I" lyric t-shirts, at a pricey $35 each, though thanks to a partnership with iTunes, each comes with 10 iTunes songs. Plus, they're EDUN LIVE shirts, not American Apparel, which is refreshing.
Each shirt is made
"in Africa, by Africans, with African cotton, [so] it helps generate revenue and sustainable growth in sub-Saharan Africa."
On the downside, for the time being, a) the shirts are only being delivered to the US (but stay tuned., b) if you've been trying to buy locally, this could really screw with your conscience; good luck with that.
i/denti/tee is seeking ideas for new "I" lyric t-shirts, and will seek permission to use the most-suggested lyrics. I hope the new shirts will feature different typography. Not a big fan of the tiny letters, with wordssmooshedtogether.
The 9 shirts available now are:
1. "I love rock n' roll" - Joan Jett
2. "I still haven't found what im looking for" - U2 (No surprise here. Bono co-founded EDUN LIVE.)
3. "I will survive" - Gloria Gaynor
4. "I used to rule the world" - Coldplay
5. "I'm a hustler baby" - Jay-Z
6. "I'm wanted dead or alive" - Bon Jovi
7. "I'm the only one" - Melissa Etheridge
8. "I wanna dance with somebody" - Whitney Houston
9. "I go back" - Kenny Chesney
So where's the
real
list? The Joan Jett lyric is a good choice, and the Gloria Gaynor one is a classic but doesn't seem like t-shirt material (so to speak).
What about Johnny Cash's "I walk the line"?
Or Velvet Underground's "I'm sticking with you?"
(from the songs of the same name)
File under classic:
"
I'm happy, hope you're happy too
"
- "Ashes to Ashes", David Bowie
"I am human and I need to be loved"
- "How Soon Is Now?", The Smiths
"
I wanna rock and roll all nite and party every day
"
- "
Rock And Roll All Nite
", KISS, from (
KISS Alive!
)
or
"
I wanna rock and roll all night and party every day
"
- "
Rock & Roll All Nite
" - KISS apparently upgraded to an ampersand and went with a new, classier spelling for "night" for
Greatest KISS
(this, according to their website's lyrics.) Granted, the old-school spelling is used with the online lyrics for "Rock"'s inclusion on many releases, such as the
Box Set
compilation,
The Milennium Collection
, and
The Very Best of KISS
, but there's
not a consensus
. I turn to rock music for consistency, so it's just a little disappointing, that's all.
Speaking of rock...how about:
"
I wanna rock! (Rock!)
"
- "I Wanna Rock", Twisted Sister
"
I'm tellin' y'all it's sabotage
"
- "Sabotage", Beastie Boys
"
I guess it's true it's never too late"
- "Sunday", Sonic Youth
File under great "'I' lyrics" that wouldn't make great t-shirts IMO:
"
I've always been a coward
"
- "Hounds of Love", Kate Bush
"
I wanna be adored
" - from The Stone Roses song of the same name.
"
I wanna be sedated
" or "
I wanna be your boyfriend
" from the respective songs of the same names by The Ramones