Everything Sounds Like Coldplay Now Video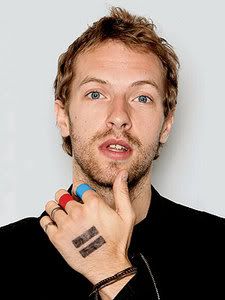 Mitch Benn & the Distractions
' video for "Everything Sounds Like Coldplay Now" gently spoofs the World's Biggest Band (they've conquered the world! I saw it on the cover of some magazines last month). Good video, they don't over-do it, and of course it includes some walking on the beach...
Everything Sounds Like Coldplay Now video
(The band has removed the video from their website for bandwith reasons, so this link is to the video as hosted by the UK edition of Maxim magazine)
mp3:
Mitch Benn & the Distractions - Everything Sounds Like Coldplay Now
(from
Crimes Against Music
, which will be available Oct. 10 in the U.K. The single is newly released in the U.K. I got it from a CD included with an issue of Word of Mouth magazine)
On a brighter note for Chris Martin,
People magazine has named his "finger and hand designs" the year's #10 top style moment
. According to "People", he "provoked questions about the tape on his fingers and lines on his hands. The tape draws the eye to the equals [sic] sign, which pays homage to his pet cause, fair trade."