Word of Mouth October Magazine and CD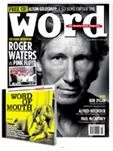 Starting off a few magazine posts with the October
Word of Mouth
. Their CD this month includes tracks by Nada Surf, Erin McKeown, Richard Hawley, Sylvie Lewis, The Music Lovers, Echo & the Bunnymen, and Richard Hawley.
The magazine itself features long interviews with coverboy Roger Waters, Alison Goldfrapp, and Charlotte Church ("There's sexy and there's sexual and I don't want to cross that line. Mind you, my new video is pretty full on."). There are also some shorter interviews, including ones with Ladytron and Richard Hawley ("I always knew I could sing, but I felt slightly embarrassed about it because I just sounded like an old bloke. It just wasn't hip, and I suppose I had to wait until I was old enough to not give a fuck anymore.")
Elsewhere, Word names the 30 best and the 30 worst frontpersons in rock.
30 Worst Frontmen/Frontwomen:
30. Richard Ashcroft
29. Van Morrison
28. Jimmy Pursey
27. Fish from Marillion
26. Paul Rogers in Queen
25. Phil Collins
24. Jacqui McShee of Pentangle
23. Ian Astbury of the Cult
22. Pete Doherty
21. Ozzy Osbourne
20. Billy Idol
19. Ben Volpeliere-Pierrot of Curiousity Killed the Cat
18. Mr C
17. Mark Knopfler
16. Chris Martin
15. Lou Reed
14. Louise Wener of Sleeper
13. Tony Hadley of Spandau Ballet
12. Ronan Keating
11. Scott Weiland of Velvet Revolver
10. Michael Stipe
9. Chris Collingwood
8. Miles Hunt of Wonderstuff
7. Jon Anderson of Yes
6. Mick Hucknall
5. Jim Morrison
4. Dolores O'Riordan of the Cranberries
3. Robert Smith
2. Brian Wilson
And the worst frontperson ever was... (yes, they put "was")
1. Billy Corgan
"Rule one: The frontperson should be nice to look at.
Rule two: If they resemble Uncle Fester, don't compound it with a stupid leather frock and a personality like an open grave."
Wow, that's extremely nasty and almost entirely irrelevant. "The frontperson should be nice to look at"? I care how they sound. I really
don't
care, whether, for instance, they have hair; it isn't necessary for singing skillz. Corgan does seem to act like a jerk sometimes, including on stage, but why focus on that other nonsense? Just the silly "open grave" analogy kills their credibility.
30 Best Frontmen/Frontwomen
30. Iggy Pop
29. Alison Goldfrapp
28. Ian Curtis
27. Kurt Cobain
26. Chuck D of Public Enemy
25. Noddy Hodder
24. Keith Flint
23. Johnny Rotten ("a demon of the imagination")
22. Robert Plant
21. David Lee Roth ("Was seemingly born in spandex. Enough of a showman to do Vegas.")
20. David Byrne
19. Simon Le Bon
18. Debbie Harry
17. Black Francis a.k.a. Frank Black
16. Jonathan Richman
15. Shaun Ryder
14. Shirley Manson of Garbage
13. Alex Harvey
12. Wayne Coyne of The Flaming Lips ("Has the rare raconteur's gene that makes his inter-song ramblings as entertaining as the music")
11. Phil Oakey
10. Ian Brown
9. Mick Jagger
8. Joey Ramone
7. Paul Rogers in Free
6. Morrissey ("The only star since Presley who's genuinely worthy of the term "idol". Now entering into middle age with an elan that's beyond any competitor).
5. Liam Gallagher
4. Nick Cave
3. Rod Stewart with the Faces
2. Martin Fry
And the best frontperson ever was...
1. Jarvis Cocker
"Just about the perfect person to have front and centre. Funny, fearless, characterful, fancied by hordes of women despite - or because of - his unconventional appearance. Even
looked
like his own music. Roll on the Pulp Reunion Tour!"
Word Magazine October CD Track Listing:
1.
MP3:
The Music Lovers - The Former Miss Ontario
("exclusive album preview", from the forthcoming
The Music Lovers Guide for Young People
. I like this... Very English, a bloke crooning romantic pop lyrics, set to lush orchestral music).
2. Echo & the Bunnymen - All Because of You Days (good song; the whole album is strong)
3.
MP3:
Sylvie Lewis - By Heart
(from
Tangos and Tantrums
, evidently featured on a recent episode of "Grey's Anatomy". Heart. Anatomy. Hospital show. Hey... that's adorable! This is a lovelorn cabaret song)
4. Sigur Ros - Glosoli
5. Beauty Shop = Nightcrawlers
6. Laura Veirs - Secret Someones
7. Half Man Half Biscuit - For What Is Chetteris...
8. David Mead - Make It Right
9.
MP3:
Richard Hawley - The Ocean
(from
Coles Corner
, another lush sweeping very English tune)
10.
MP3:
Erin McKeown - To The Stars
(from
We Will Become Like Birds
. Downright chipper alt-pop song with a sweet, encouraging message. Great drumming)
11.
MP3:
Nada Surf - Do It Again
(from
The Weight Is A Gift
. Quite catchy)
12. M Ward - Carolina
13. Kate Rusby - No Names