Beastie Boys to Release "Solid Gold Hits", Cite Elton John, Kenny Loggins as Inspirations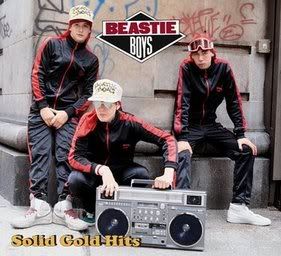 The Beastie Boys
are
releasing Solid Gold Hits, a greatest-hits collection
, out Nov. 7 in the U.K. and Nov. 8 in the States. The group's Adrock told
N.M.E. that "We wanted to join the ranks of Elton John, Steve Miller, Kenny Loggins, Cher. We figured it was about time for us to be with them."
Before jumping to the conclusion that he's being facetitious, consider this: the Beasties have covered Sir Elton. Therefore, I'm jumping to the conclusion that Adrock's dead serious. I anticipate covers of songs from the remaining artists on future albums. The Beastie Boys have begun working on their next album of new material, but it sounds like they're not quite ready to hit the recording studio. Mike D told NME, "It's just not
realised
. The conception stage is one 100 per cent done, finished, put to bed. To actually realise that is a little different."
Track Listing for Solid Gold Hits
:
1. So What'cha Want
2. Brass Monkey
3. Ch-Check It Out
4. No Sleep 'Til Brooklyn
5. Hey Ladies
6. Pass The Mic
7.
MP3:
An Open Letter to NYC
8. Root Down
9. Shake Your Rump
10.
MP3:
Intergalactic
11. Sure Shot
12. Body Movin' (Fatboy Slim Remix)
13. Triple Trouble
14. Sabotage
15.
MP3:
Fight For Your Right
Not on the forthcoming album:
MP3:
Beastie Boys - Benny & the Jets
(featuring Biz Markie, from
Beastie Boys Anthology: The Sounds of Science
, not to be mistaken for a greatest-hits collection; this was not a hit)
Purely out of respect for the Beasties:
MP3:
Kenny Loggins - Danger Zone
(from the soundtrack to
Top Gun
)
No Cher. I don't respect them
that
much. Reading her name gave me flashbacks to an episode of "Buffy the Vampire Slayer" in which Buffy's college roommate played "Believe" endlessly, causing much distress to both Buffy and (probably) many viewers. Even some Cher fans might have been desperately reaching for the "mute" button (maybe not very devoted fans like the Beasties, but it was a
lot
of "Believe"). The roomie also put a Celine Dion poster on their wall. It turned out that
she was a hideous soul-sucking demon
.