Uncut Mag CD: Thunder Road: Tracks Inspired By The Boss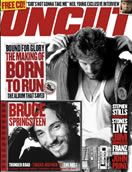 Bruce Springsteen is on the cover of the November
Uncut
, with the cover story "Bound for Glory: The Making of Born to Run, the Album that Saved Bruce Springsteen." This month's compilation CD is also devoted to Springsteen, with 14 covers of his songs. None of them are exclusive to the Uncut CD, but it is a nifty compilation. Also in this issue: an "in-depth" interview with Neil Young, and presumably regular-depth interviews with John Prine, Stephen Stills (of Crosby, Stills, & Nash), Jim Jarmusch, and Paul Schrader (screenwriter of films such as Last Temptation of Christ, Raging Bull, and Taxi Driver).
There are also reviews aplenty. The Cardigans'
Super Extra Gravity
gets 2 stars out of 5, with the headline "Chart-seeking pop-noir from Swedish popsters." Uncut dubs the album "curiously short on atmosphere" and warns that "the cold-eyed heartbreakers of 'Erase/Rewind' are back." Hey, some of us like cold-eyed heartbreakers (at least when it comes to music). Starsailor's
On the Outside
gets 3 stars. Uncut calls it a "spirited response to their detractors".
Uncut gives Depeche Mode's
Playing the Angel
4 stars, calling it "a strong bill of musical health, perhaps as good as anything the Essex trio have yet released." and noting that "Significantly, it also features Gahan's first songwriting credits."
A lot of great tracks here... I think The Cash Brothers and Marah tracks may be my favourites at the moment, but I really like all the ones I've posted.
Uncut: Thunder Road - Tracks Inspired By The Boss Track Listing:
1.
MP3:
The Cash Brothers - Nebraska
2.
MP3:
Tom Russell - I'm on Fire
3. Dave Alvyn - California Snow
4.
MP3:
The Cowboy Junkies - You're Missing
5. Delbert McClinton - Down Into Mexico
6. Jeff Finlin - Just Like Everyman
7.
MP3:
Marah - East
8. Jeffrey Foucault - Northbound 35
9. John Hiatt - Thunderbird
10. Jon Dee Graham - Sleep Enough to Dream
11. Slobberbone - Some New Town
12.
MP3:
Mary Lou Lord - Thunder Road
13. Slaid Cleaves - Last of the Yes
14. Steve Wynn - State Trooper