Comes With a Smile Mag (Vol. 19) and CD (Vol. 15!)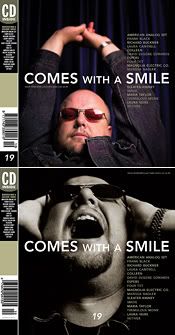 The 19th volume of
Comes With a Smile
features two different covers featuring Frank Black (although I guess if they were two of the same covers that would make little sense) and includes the
fifteenth
volume of the Comes With a Smile CD. Wacky! I think they should include extra CDs with the next issue and get caught up. Volume 15 of the CD includes songs by Richard Buckner, Sleater-Kinney, Four Tet, The American Analog Set, Laura Veirs, and Frank Black, but it's hard to appreciate them quite as much now that I have the vague feeling I should have
5
Comes With a Smile CDs!
The mag itself contains interviews with The American Analog Set, Frank Black (who questions whether there's "any demand for the Pixies to make a record. It's a live thing." He says the band is "a little bit wary" and "might still do it". I seem to recall them saying they
would
do it, hmph! I still think they will), Richard Buckner, Laura Cantrell, colleen, David Eugene Edwards, Espers, Four Tet, Magnolia Electric Co., Marissa Nadler, Sleater-Kinney, Smog, Maria Taylor, Tremulous Monk, Laura Veirs, and Vetiver, along with loads of reviews.
Comes With a Smile Volume 15 Track Listing:
1. Espers - Firefly Refrain
2. Picastro - Shorter Hard
3.
MP3:
Richard Buckner - Pull (live on RCF, France May 2003)
4.
MP3:
Sleater-Kinney - Entertain (live on XFM, UK, April 2005)
(this performance makes an interesting contrast to Buckner's. Clips of both could be used in, say, a coffee commercial. Bucker - before caffeine. Sleater-Kinney - after)
5.
MP3:
The American Analog Set - Everything Ends In Spring (edit)
6. Aaron Stout - The Ballad of Mr Lamatta
7. Marissa Nadler - Flora Barone, Queen of the Vaudeville Throne
8.
MP3:
Four Tet - Both When I'm Alone and We Both Are
9. Tremulous Monk - Tea Hippy
10.
MP3:
Laura Veirs - Flotsam 'n' Jetsam
11.
MP3:
David Eugene Edwards - Nobody 'Cept You
12.
MP3:
Vetiver (featuring Hairy Fairy) - You May Be Blue (live at Les Vieilles Charrue, Brittany July 2005)
13. colleen - The Zither Song
14. Laura Cantrell - Hammer and Nails
15. Pacific Ocean Fire - My Drinking Days Are Done
16. Maria Taylor - The First Time Ever I Saw Your Face
17. Frank Black - Atlantis