Arctic Monkeys Release Single in North America, Will Appear on Morning Becomes Eclectic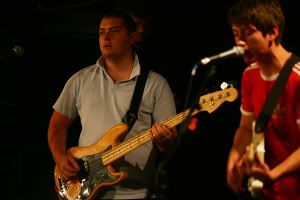 The lads from
Arctic Monkeys
have released their first North American single, for the moment via itunes only. "I Bet You Look Good On The Dancefloor", "Bigger Boys and Stolen Sweethearts", and "Chun Li's Spinning Bird Kick"
are now available at itunes, "along with the along with the Five Minutes With Arctic Monkeys single, which featured the songs 'Fake Tales Of San Francisco' and 'From The Ritz To The Rubble.'"
The "official" release date for a single you can hold (although possibly do little else with, depending on your audio setup, since it looks as though it might only be released on 10" vinyl) is Nov. 29. However, it will be available at Arctic Monkeys' US gigs prior to that. It will also be available through
Domino Records
,
Insound
, and
Other Music
.
Arctic Monkeys will perform on this Friday's
Morning Becomes Eclectic
radio show
at 11:15 AM
. Sessions with in-studio musicians are archived, and audio and video of their appearance should be available fairly soon afterward.
That night, the band plays
Spaceland
with opening acts
The Tyde
and
Army Navy
.
A quick glance at the Kofi's hat Band Ego Check, thanks to an interview in the Guardian, brings us this (possibly) revealing quote from bassist Andy Nicholson,
"What's the point in talkin' yourself up? We know we're not the best band in the country, so why say we are? If we do fail, at least we can say, 'We told you so.' That's not us being down on ourselves. That's just being honest."
Insecure artists or good PR? It's either kind of sad or kind of clever. Either way, arrogance
is
much more annoying. If they do steal the world from that band that has it now... it's like it was a wacky accident! They're as surprised as anyone! That feels rather more likeable and less calculated.
MP3:
Arctic Monkeys - View from the Afternoon (live)
MP3:
The Tyde - Go Ask Yer Dad