Tickets On Sale for Colin Meloy's Solo Tour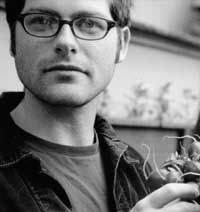 Tickets are now on sale for all shows on
Colin Meloy
's January solo tour.
Laura Veirs
is set to open for Meloy throughout the tour;
Amy Annelle
will also open for him in New York.
Going to one of his solo concerts early this year was the only "official" way to get a copy of Meloy's EP of Morrissey covers,
Colin Meloy Sings Morrissey
. Meloy has announced that
"As a consequence of it being so much fun the last time, it is likely he will be taking time to record another 'Colin Meloy Sings...' EP that will be available exclusively on [this] tour. Coveree TBA."
Predictions, anyone?
It's considerably easier to snag a copy of his autobiographical book
Let It Be
, about the Replacements album by the same title, and one of the 33 1/3 books. Perhaps an EP of Replacements covers would be too obvious?
Tickets to most of Meloy's January concerts are available through Ticketmaster (no, seriously). For the NYC show,
Meloy recommends buying tickets at the Irving Plaza box office "to avoid Ticketmaster fees!"
Check out "your" venue's website for ticket purchasing info (particularly if "your" concert is mysteriously absent from Ticketmaster). Meloy remains singer and songwriter for
The Decemberists
who are on tour in Europe throughout November.
Meloy's January 2006 Tour Itinerary
:
18 - Seattle, WA - Showbox
19 - Portland, OR - Aladdin Theatre
20 - San Francisco, CA - Great American Music Hall
21 - Los Angeles, CA - El Rey Theatre
23 - Chicago, IL - Park West
25 - Boston, MA - Paradise (18+)
26 - New York, NY - Town Hall
27 - Philadelphia, PA - TLA
28 - Alexandria, VA - Birchmere
The shows are all ages except as noted.
Colin Meloy - Jack the Ripper
(from
Colin Meloy Sings Morrissey
)
Colin Meloy - Sister I'm A Poet
(from
Colin Meloy Sings Morrissey
)
MP3:
The Decemberists - Los Angeles, I'm Yours
(from
Her Majesty The Decemberists
)
MP3:
The Decemberists - We Both Go Down Together
(from
Picaresque
)
MP3:
The Decemberists - Here I Dreamt I Was An Architect
(from
Castaways and Cutouts
)
MP3:
Laura Veirs - Black Gold Blues
(from
Year of Meteors
)
MP3:
Amy Annelle - Will Try
(from
School of Secret Dangers
)