Filter-Urban Outfitters Hurricane Relief Double-CD Now Available
Give. Listen. Help.
, a Filter-Urban Outfitters double-CD compilation put together to raise funds for the American Red Cross' Hurricane Relief Fund is now on sale at Urban Outfitters stores,at their website, and at Filter's new store. The Filter Store plans on shipping the CD in mid-November. Urban Outfitters' website has it in stock now. The CD sells for $14.99 and includes 30 tracks, many of them previously unreleased. Radiohead, Gang of Four, Black Rebel Motorcycle Club, Death Cab for Cutie, Sigur Ros, and Of Montreal are among the artists who contributed tracks to this very cool collection. There won't be a second pressing for the album, so if you want a copy don't wait too long to buy one. 100% of the profits made from the CD sales will go to the Hurricane Relief Fund (only about $1/CD is not included because it goes to the CD manufacturer. I think that's reasonable)
On a lighter note, here's as close as I can get to a transcript of a conversation I heard between the two girls behind me in line as I waited to buy my hurricane relief CD at an Urban Outfitters on Friday. For ease of transcription purposes, I'll call them Betty and Veronica. Other names have been changed to protect the people who know these people.
Betty: I'm *addicted* to shopping.
Veronica: Really?
Betty: Oh, yeah. Totally. I could shop... like, *all* the time. And clothes say so much about your personality! That's why like Josie is so... like-
Veronica: BORING? (laughs)
Betty: (laughs) Plain!! You know like how in that one picture she's just like (imitates someone just standing there), and you and me and Archie are like (imitates people grinning with their arms around each-other). We like have personality. And the sad thing is, you can't change someone like that.
Veronica: Yeah, really.
There's a lesson somewhere in there. They were purchasing a fair amount of clothing. I didn't look to see what kind of clothes they were buying but perhaps it would have answered my question: who is keeping the bolero alive? I wanted to include pictures with this post. Alas, for now, sloppy links will have to do.
updated on Nov. 14 with pictures now that Blogger is back; it's going back down tonight for a
"scheduled outage; let's hope it's back in good shape soon... meanwhile, a couple of the links are killing this post, so they're gone for the moment and will be edited back in ASAP
I want the bolero, shrug, capelet... all items of this sort to just disappear altogether, but for some reason this is a losing battle. A small focus group convened at my place Saturday night and we decided these are the worst of the worst at Urban Outfitters' website, their most unappealing boleros. We implore the females of America to not purchase them. The first one is $118.
Surely there are better, and cheaper ways to hide how attractive you are, if that's the goal!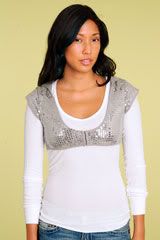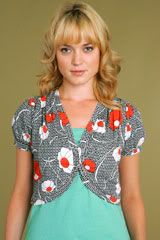 Some might say Urban Outfitters has done something lovely with this CD and I shouldn't respond with a diatribe criticizing their boleros. I say, yes, they have done something lovely, but that's no excuse for selling awful boleros.
Plus, I'm pretty sure I acknowledged not being a good person just a couple days ago. So now I can get away with all kinds of stuff! I might be partly kidding. Or not! That's just the kind of person I might or might not be! Is Blogger working again yet?
edited to add, kind of! - signed, trill as she adds images of the hideous boleros, Nov. 14
Alright, conscience kicking in... the salesperson at Urban Outfitters was very nice and actually
thanked me
for buying the CD. And was very sweet, and not acting like a phony about it either. I still would rather people bought some Napoleon Dynamite toys or naughty books rather than their boleros. Anything other than the boleros!
Give. Listen. Help.
The Filter-Urban Outfitters Hurricane Relief CD Track Listing: Disc 1:
1. Radiohead - Gagging Order *
2. TV On the Radio - Dry Drunk Emperor *
3. Gang of Four - Natural's Not In It (Ladytron remix) *
4. British Sea Power - Be Gone
5. Black Rebel Motorcycle Club - Mercy *
6. Grandaddy - Pull the Curtains
7. Death Cab For Cutie - Jealousy Rides With Me *
8. Tom Vek - Blessing In Disguise *
9. Blackalicious - Your Move
10. The Noisettes - Don't Give Up
11. Diamond Nights - A Kiss To Tell
12. The Double - Freaky Freedom *
13. Amusement Parks On Fire - Blackout *
14. Giant Drag - Smashing
15. Sigur Ros - Glosoli
Disc 2:
1. Beck - Broken Drum (Boards of Canada remix)*
2. Calexico - Quattro (Gotan Project remix) *
3. Blonde Redhead - Melody (French version)
4. Hail Social - Hands Are Tied
5. Of Montreal - Wraith Pinned to the Mist and Other Games
6. Mazarin - The New American Apathy (radio edit)
7. Laura Cantrell - Hammer and Nails *
8. Calla - It Dawned On Me
9. Joggers - Empty Vessel, Half-Full
10. Favourite Sons - Things That We Do To Each Other *
11. Low - Monkey (Fog remix) *
12. Lansing-Dreiden - The First Response
13. The Album Leaf - Micro Melodies (live)
14. Devics - Salty Seas *
15. Tom Waits (with the Kronos Quartet) - What's He Building (live) *
* = previously unreleased
Some other songs from some of these folks:
Radiohead - Electioneering
(from
OK Computer
)
Gang of Four - Damaged Goods
(from
Entertainment!
)
Black Rebel Motorcycle Club - Love Burns
(from
B.R.M.C.
)
Death Cab for Cutie - The Sound of Settling
(from
Transatlanticism
)
Death Cab for Cutie - Movie Script Ending
(from
The Photo Album
)
(two from Death Cab because they're coming to L.A. this week and I'm looking forward to seeing them)
Blackalicious - Black Diamonds and Pearls
(from
The Craft
)
Diamond Nights - The Girl's Attractive
(from
Popsicle
)
Blonde Redhead - Pink Love
(from
Misery is a Butterfly
)
Laura Cantrell - Bees
(from
Humming by the Flowered Vine
)
Of Montreal - I Was Never Young
(from the
Sunlandic Twins
EP)
(Heh... wrote this post on Sunday., but I think I've got the italics thing down today... as in, Blogger is
still
down)