Aqualung at the Silent Movie Theatre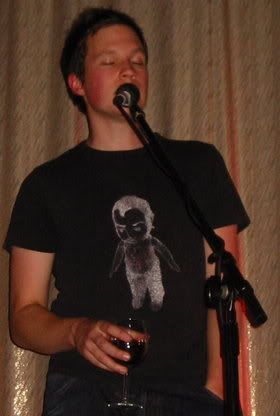 Aqualung
's Matt Hales (vocals, keyboards, guitar) and his brother Ben Hales (backing vocals, guitar, melodica) played an entertaining, charming, and occasionally profane set Monday night at the 224-seat
Silent Movie Theatre
. The theatre, which first opened in 1942, and is now the only silent movie cinema in the nation, has walls lined with movie still and actor photographs. Below the stage and framing it on either side are a pair of antique pianos. A tiffany lamp sits atop one; on the other... a disco ball. The appeal of those objects neatly symbolizes the retro-hip, cool-geek vibe of the place.
Given the setting, Aqualung's lush, heartfelt songs, their lineup for the set (a singer and an accompanist), and all the stories and jokes, it was not surprising that Brit Matt Hales paid homage to cabaret singers. He crooned a smooth rendition of Simon & Garfunkel's "Overs" at a mike stand, eyes mostly closed, glass of wine in his hand.
Before beginning the evening's first song, "Easier to Lie", Matt sang an improvised song, as he is wont to do. This one began something like this: "This was gonna be such a smooth beginning/You were gonna think we were so professional/But then Ben had to go and forget something." As melancholic as some of Aqualung's songs are, one might not expect their concerts to be nearly as funny as they are. Yet the humour is very appealing and doesn't detract from the emotion of the music. Once they got on track, "Easier to Lie" was one of the evening's standout tunes.
I was less impressed with a somewhat-plodding reworking of "Strange & Beautiful (I'll Put A Spell On You)" that succeeded at making it different but not at making it better.
A new melodica was broken-in with this show, as the old one was left in San Francisco, though Matt said, "To be honest, it was a bit fucked. It started to have its own ideas about what key it was in." As for the new one? "We have every confidence in Blackie here." During another "fun with instruments" interlude, Matt goofed around on the keyboards, making horror-movie sounds and such.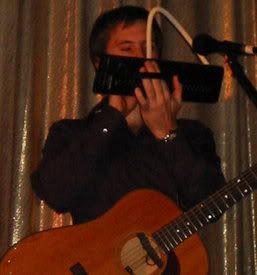 Matt called the Beach Boys' "Don't Talk (Put Your Head On My Shoulder)" one of his favourite songs, and said it "might be literally in my blood" as his mother sang it to him before he was born, as she did with his brother. His raw, sweet take on the classic song was a definite highlight (A live MP3 of "Don't Talk (Put Your Head On My Shoulder)" is available to members of the
Aqualung website
)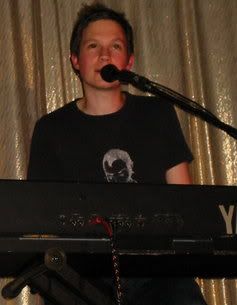 Other standout songs included two of the strongest songs from
Strange and Beautiful
: "Left Behind" and "Another Little Hole". Another standout song was a new one, to be recorded in 2006 for the next Aqualung album (no official title yet, but perhaps "Glimmer" or "Tiny Glimmer"). The words might change, but for now, the song finds Matt singing, "It takes time to get it right/It takes no time to get it wrong."
During the last pre-encore song of the evening, "Brighter Than Sunshine", Ben Hales climbed off the stage to plug in that disco ball. It took longer than expected, so Matt made up another song. "I'll just make a little song to pass the time..." For his theatre-beautification efforts, Ben earned a sarcastic "Seamless!" from his brother, along with cheers and applause from the audience (he was to get more cheers upon donning a bowler hat from their dressing room for the encore).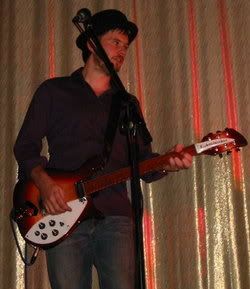 Matt's comeuppance came during the encore, when he forgot the words to the lullaby, "Good Goodnight". It disrupted the song -- more than once -- but also made it fun. After mucking up the song for the second time, he said, "For fuck's sake!" and rested his head in his hands. "I'm terribly sorry," he told us. "I'm sorry, we've fucked that up completely." Rarely have I heard so much swearing during a lullaby. There was much good-natured laughing from both audience and stage during all this, and they did eventually finish the song.
Matt then told us they were about to play the last song of the night, and how important it was to pick the right last song. "One you know!" Ben chimed in. Matt said he did do that, and also chose one that made him think of "absent friends" and "happy times". That night he said he was dedicating it to us. With that, he and Ben closed the evening with "If I Fall", yet another lovely song.
Aqualung Set List, 7:30 PM Show:
1.
Easier To Lie
(from
Strange and Beautiful
)
2. Strange & Beautiful (I'll Put A Spell On You)
3. Left Behind
4. Can't Get You Out of My Mind
5. Don't Talk (Put Your Head On My Shoulder) (Beach Boys cover)
6. Breaking My Heart
7. Overs (Simon & Garfunkel cover)
8.
Another Little Hole
(from
Strange and Beautiful
)
9. Glimmer (no official title, a new song)
10. Tongue-tied
11. Good Times Gonna Come
12. Brighter Than Sunshine
Encore:
13. Happy Birthday to You (sang in a minor key with more than a touch of humour, for an audience member. Matt noted that he and Ben once wrote a song called "One Year Closer to Death" for a friend's birthday)
14. Extra Ordinary Thing
15. Good Goodnight
16. If I Fall
Original Songs Aqualung covered:
The Beach Boys - Don't Talk (Put Your Head On My Shoulder
(from
Pet Sounds
)
Simon & Garfunkel - Overs
(from
Bookends
)