Mojo CD: Born In The USA: The American Songbook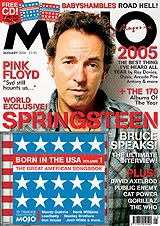 A soul-patch-sporting Bruce Springsteen is the cover model for the January 2006 issue of
Mojo
. The picture possibly answers the question, "Did Springsteen have photo approval for this cover?" He looks rather dazed, and yes, confused as well. The cover copy brags "Bruce speaks! The ultimate interview!" Alright then. The interview is quite lengthy and looks rather thorough. One interesting quote, "Trust the art, be suspicious of the artist. He's generally untrustworthy." Is Springsteen warning us to mistrust him? Scandalous! Wait. Should we trust his warning?
The mag also includes interviews with Chuck D, Pete Doherty, and Antony Hegarty of Antony and the Johnsons. All artists, all generally untrustworthy, if Springsteen is to be trusted.
Mojo also has decided to settle once and for all which are the 50 best albums of 2005 (hooray!). They name Antony and the Johnsons'
I Am A Bird Now
the album of the year, continuing its reign as An Overrated Album. I'll write a separate post with more on their picks for the best albums of the year and other parts of their year-end coverage.
Reviews-wise, the mag gives four stars out five to Cat Power's
The Greatest
, an album with a "soulful glow". Reviewer Victoria Segal says Chan Marshall "seems to have found a different kind of liberation, excited by the possibilities of key and notation. That's not to say that
The Greatest
is an easy ride. Marshall's voice is beautiful and evocative but she picks out consonants from words like the stones from fruit, leaving most of these lyrics a cryptic puree of image and emotion."
The Born in the USA: The American Songbook volumes were compiled to "celebrate the forefathers and frontrunners of Stateside music." Vol. 1 collects the work of musicians "whose work helped shape modern music as we know it today and whose influence continues to reverberate." Vol. 2 sticks to those who Mogo sees as possible "heirs to Springsteen's considerable legacy... these are artists who've given voice to the hopes and fears of Bush's America."
I only bought the second volume. I had one song from the first volume handy, so I posted that as well, and added a link to another of the tracks...
Born In The USA Volume 2 (The New American Songbook) Track Listing:
1. Hank Williams - You Win Again
2. The Doc Watson Family - I Heard My Mother Weeping
3. Leadbelly - Midnight Special (Found it at
SqueezeMyLemon
)
4. Woody Guthrie - Washington Talkin' Blues
5. Jelly Roll Morton - The Story of "I'm Alabama Bound"
6. Odetta - Nobody Knows You When You're Down and Out
7. Josh White - I Had to Stoop to Conquer You
8.
Son House - Empire State Express
(from
Original Delta Blues
)
9. Sonny Terry and Brownie McGhee - Screamin' and Cryin Blues
10. The Green-Briar Boys - I'm Coming Back But I Don't Know When
11. The Stanley Brothers - Man of Constant Sorrow
12. New Lost City Ramblers - Keep On the Sunny Side
13. Ian & Sylvia - You Were on My Mind
14. The Gosdin Brothers - There Must Be a Someone
15. Cisco Houston - Deportees
Born In The USA Volume 2 (The New American Songbook) Track Listing:
1. Iron & Wine - Woman King
2. Ray LaMontagne - Jolene
3.
Frank Black - I Burn Today
(from
Honeycomb
, mistakenly listed as "I Burn For You" by Mojo)
4.
Josh Rouse - Streetlights
(from
Nashville
)
5.
Brendan Benson - Alternative to Love
(from
The Alternative to Love
)
6. Dan Sartain - Leeches Pt. 1
7. Magnolia Electric Co - Hard To Love A Man
8. Bright Eyes - Land Locked
9. Joanna Newsom - Sprout And The Bean
10. Sufjan Stevens - John Wayne Gacy Jr.
11.
Rosie Thomas - Pretty Dress
(from
If Songs Could Be Held
)
I quite like this tune.
Rosie Thomas
is currently on tour and has a couple of shows in L.A. this week. She's at the Knitting Factory on Tuesday opening for David Bazan, and at Largo on Wednesday with Bazan opening for her. On Friday they'll play at Seattle's Crocodile Cafe with Thomas headlining. Fans of Thomas and/or staying warm may want to check out her handmade Sing-a-long scarves at the
Sub Pop shop
.
12.
Willard Grant Conspiracy - Evening Mass
(from
There But for the Grace of God
)
13. Kelley Stoltz - The Sun Comes Through
14. Jim James - Sooner (live)
15. Black Mountain - Heart of Snow