Paste Magazine CD: December 05/January 06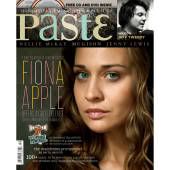 Fiona Apple is on the cover of the new
Paste
, which includes interviews with Apple, Wilco's Jeff Tweedy, and Nellie McKay. Also in this issue, Paste gets in on the listmaking craze, naming "The Paste Arthouse Powerhouse 100", a list of "actors, directors, screenwriters, cinematographers and composers along with those who grease the wheels to bring us the best arthouse films." Paste's top arthouse actor is Bill Murray. Their top director pick is David Cronenberg, and screenwriter Charlie Kaufman ("Eternal Sunshine of the Spotless Mind", "Adaptation") gets the nod in the "Other Creatives" category. That's how much respect writers get; they're filed under "miscellaneous". Netflix is named the #1 "Wheel Greaser"; the Cannes Film Festival is #2.
Those
two will be exchanging some dirty looks at this season's holiday parties!
As always, Paste includes a CD (subscribers get a DVD as well).
The Paste December 05/January 06 Track Listing:
1. Nada Surf - Do It Again
2. Fiona Apple - O' Sailor
3. Echo & the Bunnymen - Stormy Weather
4. Laura Veirs - Galaxies
5.
Manchester Orchestra - Alice And Interiors
6. Winterpills - Pills for Sara
7. Amadou & Mariam - Coulibaly
8.
I-Nine - Same In Any Language
9. Metric - Monster Hospital
10. The Believers - Nobody's Business
11. Dolly Parton - The Cruel War (Featuring Alison Krauss, Mindy Smith & Dan Tyminski)
12.
Charlie Sexton - Cruel & Gentle Things
13.
Speech - Braided Hair (Featuring 1 Giant Leap Neneh Cherry Ulali)
14. Moonlit Towers - I Sleep Alone
15.
The Choir - Nobody Gets A Smooth Ride
16. Imogen Heap - Hide And Seek
17. Chocolate Genius Inc - Amazona
19. Cindy Bullens - Dream #29 (One True Love) (Featuring Elton John)
Plenty of CDs, including many by these artists are available at
PasteMusic.com