The Chronicles of Narnia: Review, Director Q/A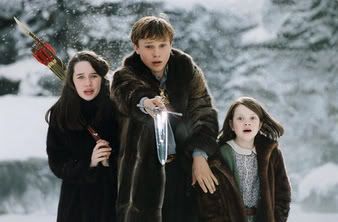 After spending 4 1/2 years making Shrek and 3 years on its sequel, for his first live-action film director Adam Adamson took on the formidable task of bringing C.S. Lewis'
The Lion, The Witch, and The Wardrobe
to the big screen. When he first met with the Lewis estate to discuss his ideas for a film, he was surprised that "they just kept nodding." 3 1/2 years later, the enchanting epic adventure
The Chronicles of Narnia: The Lion, The Witch, and The Wardrobe
shows their trust was well-placed.
As "Narnia" begins, siblings Peter, Susan, Edmund, and Lucy Pevensie (William Moseley, Anna Popplewell, Skandar Keynes, and Georgie Henley) are being sent from London, to a house in the country to avoid World War II air raids. The house is large but most of the interesting things are off-limits, and only a maid and a professor they're not to disturb live there. During a game of hide-and-seek, youngest sibling Lucy discovers a new world awaits her in a wardrobe (behind the coats). She takes tea with a kindly faun (half-man, half-goat) named Mr. Tumnus (James McAvoy), who confesses that he had intended to kidnap her but he can't bring himself to do it. He warns her that the White Witch seeks the capture of all humans.
She escapes back through the wardrobe, but her sister and brothers don't believe her story. Edmund is the next to see Narnia, but his encounter is with the White Witch (Tilda Swinton), who introduces herself as the Queen, and buys his affection with sweets. He tells her about his siblings and promises to bring them to her.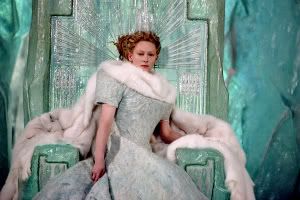 Once all four enter Narnia, the real adventure begins, complete with digital beavers, centaurs, minotaurs, unicorns, and wise Aslan the lion (voiced by Liam Neeson). The Shrek films may have been ideal preparation for "Narnia". All are humourous (but not frivolous) fairy tale/adventures and required great attention to detail, patience, and much time spent working with digital creatures. The heart of the story is with the children and it was essential that they be well-cast. Adamson saw videotape auditions from 2,500 child actors, saw 800 in person, initially workshopped 400, then workshopped 120 actors more closely before casting the four central roles.
Fortunately, he chose well. All are very good, particularly William Moseley as eldest sibling Peter who finds himself thrust into a very important position he didn't seek and isn't sure he can handle. Anna Popplewell gives a good performance, but Susan is simply the least interesting character, and has the smallest role in the good vs. evil battle that is her siblings' destiny. Each of the kids is given weapons, and I kept waiting for Susan to use hers, or to otherwise be useful... or be ... someone more substantial.
My quibbles with "Narnia" are relatively small. For instance, it seemed odd that characters kept warning that the trees couldn't be trusted, and citing this as a reason to move along swiftly, when "untrustworthy trees" were not later used as a plot device. Also, I found it implausible that Lucy did not use a magical gift to try to help someone very important to her at a key time.
"Narnia" (rated PG) is fairly violent and might well scare young children. Most others will likely greatly enjoy "Narnia"'s beauty and grand adventure. The special effects and cinematography are top-notch. The scenery is majestic (the film was largely shot in New Zealand, the Czech Republic, and Poland). Tilda Swinton delivers an impressively icy performance as the White Witch, while Aslan and James McAvoy (Mr. Tumnus) and Liam Neeson (the voice of Aslan) turn in equally strong, warm performances. The movie works well as an epic fantasy, and tackles themes such as bravery, destiny, friendship/family, loyalty, and forgiving.
Certainly, ideas relating to sacrifice and redemption also run through the film, and references like "sons of Adam" and "daughters of Eve" (meaning humans) may enthuse those who want to see the movie as "a Christian film". Although the movie is being
marketed to churches
, its director does not see the film or book as a Christian allegory. Of
The Lion, The Witch, and the Wardrobe
, Adamson says, "It's one of these books that's very open to interpretation and I read it as an adventure."
Director Q/A:SPOILER WARNING -- scenes in the movie are discussed below, so if in doubt, don't read it before seeing the movie
Following the screening I attended last month, director Adam Adamson was interviewed and answered questions from audience members. (Quotes from Adamson, and information from the review such as how long it took to make each of his films are from this session.)
The switch from animation to live-action "wasn't as big a change as you would think," said Adamson. "The book was a really good roadmap." That said, "I didn't want to make the book. So much is my
memory
of the book." Adamson noted that your imagination expands upon what you read and adds to it, so that when you later go back and read the book again, you don't find things there that you expect to. Plus, Lewis had a tendency to write things like, "I can't even tell you what happened because then your parents won't let you read this."
He doesn't think
he'll
live long enough to make films of all the "Narnia" books. However, Adamson acknowledges that "there is an intention to make the other books, yes."
He emphasized the importance of storyboarding, "a process I consider an extension of the writing process." It made the technical issues much easier, as he could figure them out "on a shot by shot basis. Of course it changes along the way. A lot of our battle scenes stayed the same just because it was so technical." (there were "pretty much four units shooting during the battle scene").
Adamson shared that, "The shots of the wolves were shot the night before last." (meaning before our screening, which places the end of post-production at early November)
The "crossing-the-ice" scene is the only new scene (it's not in the book). Adamson "felt like the middle needed more pace and excitement." This was "a dramatic way" to indicate that "spring is coming".
Along those lines, the director found the weather the most frustrating part of making the movie. Because of a weather change, during the "White Witch deal" scene, someone was monitoring the weather and yelling things like, "sun in 10 minutes!"
Only one scene was deleted. "There was a celebration and dance scene after the coronation. We felt like the coronation was enough of a celebration," Adamson said. "I think the kids are really glad we cut it because William was really embarrassed about his dancing."
It was sometimes tough to find a take where each of the kids performed at their best. "Georgie was just so instinctual... the more rehearsal, the worse. Usually, the first take was the best." However, "William's last take was usually the best. He tends to think and sometimes overthink."
As for the challenges of working with children, Adamson told us Skandar Keynes, who played Edmund, grew 5 1/2 inches from audition to end of production. The film "was shot almost exactly in chronological order. You mature more in Narnia, so it makes sense."
Adamson usually read the lines of digital creatures when filming during scenes with the children, but his assistant Lena read Mrs. Beaver. He said, "Centaurs are something that's always fascinated me" so he especially enjoyed creating them for the film.
Adamson thinks the success of Lord of the Rings and the Harry Potter movies "made this movie possible." He feels their success made the Lewis estate feel comfortable with the film adaptation. He said the nature of the relationship was "mostly... trusting me to take it, but I didn't really change anything without discussing it with them... Some things we debated."
Tim Finn - Winter Light
(from
The Chronicles of Narnia: The Lion, The Witch, and The Wardrobe Original Soundtrack
)
Imogen Heap - Can't Take It In
(from
The Chronicles of Narnia: The Lion, The Witch, and The Wardrobe Original Soundtrack
)