New Cat Power: "The Greatest"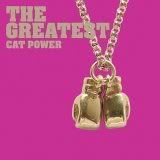 Cat Power
's album,
The Greatest
, out January 24, was recorded this summer in Memphis, TN with a stellar line-up of local musicians. The album is mostly quite bluesy, and the sound works well for both rock songs ("Living Proof", "Love & Communication") and more delicate, moody tracks such as "The Moon". The wonderful "After It All" possibly falls somewhere in between, with Marshall's warm voice plaintive but a jaunty piano and occasional whistling keeping the tune from becoming melancholy.
The country song "Empty Shell" doesn't quite work; it might have proved less annoying without its use of a backup singer as, essentially, an echo for nearly every line Chan Marshall sang.
But overall
The Greatest
sounds distinctive and strong, with the Southern blues/rock sound lending a new dimension to Marshall's personal lyrics.
Cat Power - The Greatest
(links replaced with link to d/l "The Greatest", per request from Matador Records)