Eddie Argos Interview/Art Brut's First L.A. Show
It's no secret that Eddie Argos dreams of moving to L.A.
When I get off that plane, the first thing I'm going to do is strip naked to the waist. And ride my Harley Davidson up and down sunset strip. - Art Brut, "Moving to L.A."
He had an advert for renting Harley Davidsons in his blazer pocket Thursday evening, but he hasn't gone through with it... not yet anyway. Or met Morrissey, although drummer Mikey B aka "Major Mike" once fetched his phone number for Eddie out of a "bin". He didn't call him. "We're very polite young men... and woman," he amends, allowing for the presence of bassist Freddy Feedback. The band is indeed quite polite and charming. Eddie "went white" when he said "Jesus Christ" on the air during a recent radio appearance when a bass string snapped. He didn't want to cause an FCC fine, but, he notes that apparently it's okay to say Jesus Christ.
Eddie seems to reserve any snarkiness for
other bands
, and only when they offend him in some way. He has a piece in the new issue of
Filter Magazine
called "What I Think of the U.K. Music Scene". He feels that "until recently" two movements have dominated the scene. One, started by the Libertines and continued by other bands who "seem to be obseseed with self-destruction as a fashion statement." The other one he feels started with Franz Ferdinand's "'80s-referencing." He divides the genres into the "Crackheads" and the "Gang of Fours". He was surprised they printed the article. It's an interesting read, and he also mentions several artists he
does
like, including Arctic Monkeys.
While the band has not looked up Morrissey while in L.A. that's not to say that they haven't been enjoying their time here. Eddie said it's "nice... very hot." However, he likes walking. He likes to get a bag and a Snapple and just go. "I tried to walk and they said, 'Get in the car.'" He has done some shopping though, even if it was car-assisted, and the band "did the Spinal Tap thing" on the roof of the Hyatt, where they're staying. "I suppose every band does that," Eddie said. He was surprised the TVs weren't bolted down, but they did not trash their rooms. Art Brut is not that kind of band.
While Morrissey remains an icon for the group, Eddie said "I'm a bit scared of Morrissey fans." He said he wasn't scared of his fans, he might have reason to be a bit wary of at least a small number of them, as he would later find out.
Eddie told
NME
recently that he had a clarinet and a xylophone but couldn't play either; I asked whether he's learned how to play anything on either yet. No progress on the clarinet, but he's now learned a song by the Chalets on the xylophone.
I asked whether he would point to the ground during "Moving to L.A." and he said he would. (He always points toward L.A. when performing the song in concert). He also said they had changed the lyrics to reflect being in L.A.
Art Brut
,
Spaceland
, Nov. 17th
Opening Acts: Porterstatic,
Every Move a Picture
. (Review of opening acts forthcoming)
Art Brut opened their first L.A. show strong, earning those extra towels and pre-opened water bottles, with an excellent rendition of "Formed A Band". The group played like mad as Eddie gestured to them and sang "Formed a band, we formed a band, look at us, we formed a band." He had immediately abandoned his shoes by his mike stand (he always sings shoeless), and soon removed his hat and blazer as well. He sang as close to the audience as he could get without jumping into the crowd, hovering over the crowd and singing intensely, arms extended. After the first song, he greeted L.A. and asked if anyone had any questions. "Yes, young man? "My Little Brother?" They played it, hard. Eddie swung the mike stand, sending it seemingly perilously lurching back and forth.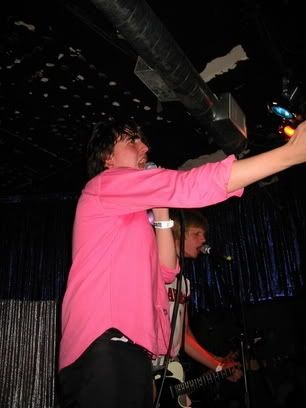 Drummer Mikey B plays standing up, perhaps all the better for more power. Ian Catskillin and Jasper Future had a guitar-off at one point but perhaps there's no real way to settle which one plays more powerfully. Ian has lead guitar and is going for a sort of Robert Smith hairdo these days, but Jasper has a Playboy t-shirt and inititated the guitar-off which shows moxie. Freddy Feedback on bass mostly has no need for such showing-off moves. Though she'll occasionally play on the floor when the mood strikes her.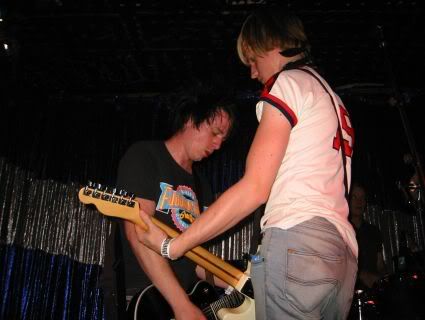 The third song, written on the plane ride to L.A., was called "as yet unfinished", but sounded album-ready. It was followed by "Rusted Guns of Milan", another song about something unfinished, as Eddie put it, in this case sex, "when you just want it to end." Another new song about sex, and then "a song about dancing", "Modern Art," which got an especially enthusiastic reaction, perhaps encouraging Eddie to jump into the crowd for a bit of a dance. An over-exuberant, and well-lubricated audience member expressed her fondness for Eddie both by hugging him rather intensely and by throwing rather a lot of water at him. After the show, when she and her boyfriend were telling Eddie how great Art Brut is, he thanked them, and said to never throw anything at anyone.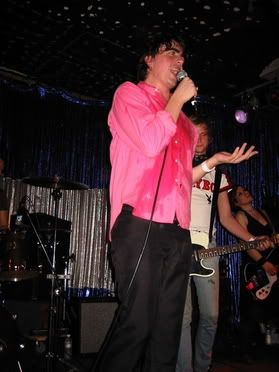 Eddie did indeed tweak the lyrics to "Moving to L.A." and pointed to the ground several times during the song. The song was as tight, punkish and rambunctious as the rest of the set. Unfortunately, at least one person in the crowd was overly rambunctious and chose this time to start throwing coins. It might have been the hugger. After the song, Eddie asked people to stop throwing things or at least to have better aim; this seemed to stop the problem. By "Emily Kane" all was well and it was all about the fun again. Eddie introduced Jasper Future, "our new guitarist" and told him about all the chord changes in the next song, and to "try to keep up." He also said he always says that.
More lyric-tweaking as Eddie promised when he returned, and saw us on Sunset, he'd remember all of our faces and would ask us all whether we were in a band. "I'll see you in the streets... or in your cars probably." "Good Weekend" closed out the set in spectactular fashion with introductions of the band midway through. A guitar was played upon a mike stand, a guitar was thrust onto the drum kit. It was that kind of song.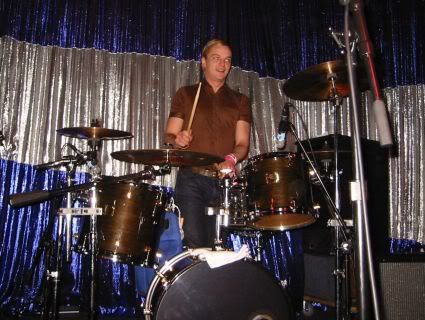 Art Brut play the
Echo
at 8:30 PM tonight. Darker My Love and
The Adored
open.
MP3
:
Art Brut - My Little Brother
(from
Bang Bang Rock & Roll
)