Franz Ferdinand Announces Webchat This Weds/Thurs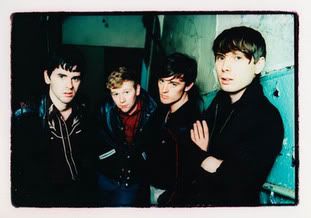 The members of
Franz Ferdinand
are "delighted" to share the news of their forthcoming web chat. Anyone can join this chat ... as long as they've
registered
their e-mail address with the Franz Ferdinand website. If there's an increase in the amount of e-mail you get offering amazing deals on mail-order Cialis, it's probably a coincidence.
Please note that the following schedule, including Vancouver and Ottawa's new geopolitical assignment, is straight from Franz Ferdinand's
website
(which is "resting" at the moment... but, really, it is!). Perhaps this has something to do with
Canada's election
. Whatever the reason, welcome, new Americanadians!
We know a bit about you, Vancouverites and Ottawans! Permit me to demonstrate. You are well-known for your affection for hockey! Relationships are partly about compromise. Please forget about hockey now; it's not our "thing" here. However, we are willing to let you try to spread the polite and charming ways you are stereotypically known for, as
our
part of the bargain. You're welcome! Sharing means caring.
Franz Ferdinand's Webchat Schedule:
"Due to international timezones the webchat will take place for an hour at the following times:"
Weds, Jan. 25th
* USA: 3 pm PST (Los Angeles / Vancouver, Canada)
* USA: 4 pm MST (Denver)
* USA: 5 pm CST (Chicago)
* USA: 6 pm EST (New York / Ottawa, Canada)
* UK: 11 pm GMT (London)
Thu 26th January
* Europe: 12 am CET (Paris, Berlin, Rome)
* Russia: 2 am (Moscow)
* Australia: 7 am WST (Perth)
* Japan: 8 am (Tokyo)
* Australia: 10 am EST (Sydney)
* New Zealand: 12 pm (Auckland)
Franz Ferdinand - Fade Together
(from
You Could Have It So Much Better
)
Kidz Bop Kidz - Take Me Out
(from
Kidz Bop 8
. I wonder if anyone has asked Franz Ferdinand how they would feel if a copy of this cover survives a thousand years from now, but no other version of any of their music does)