Ben Lee Honored, Records Duet, Tours, Teases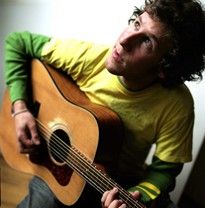 These are busy times for
Ben Lee
. This week, his 2005 album
Awake Is The New Sleep
was
nominated for the first Australian Music Prize
. (The others on the shortlist for the Prize, intended as the Australian equivalent to the Mercury Prize, are the Devastations, Don and Charlie, the Drones, the Go-Betweens, Mess Hall, TZU and Tex, the Go-Betweens, and Wolfmother).
Plus, Tuesday night, he
recorded a duet with Leona Naess
for her next album. Lee
thinks
the track is called "Boyfriends".
He writes:
"it's a great song about not being ready for relationships. i get to sing the line "cos im not ready, no, not even close", which is a lyric i didnt have to get to method-y to sing with conviction :)
He also announced a
U.S./Canadian tour
, which kicks off tomorrow night in Connecticut. Along with his own tour, he
hints rather strongly that he has a supporting gig lined up
this spring as well ("why dont you have a guess at which band im supporting in the spring around the US?").
Ben Lee's Tour Dates:
February 11 - Storrs, CT - Jorgensen Center For The Performing Arts at the University Of Connecticut
Acoustic show with Lara Meyerratken and co-headlining with Ben Kweller
All Ages
8PM/$15 Students, $20 Others
March 1 - Vancouver, BC Canada - Richard's On Richards
March 2 - Portland, OR - Dante's
March 3 - Seattle, WA - Chop Suey
March 4 - Eugene, OR - John Henry's
March 6 - San Francisco, CA - Great American Music Hall
March 8 - Los Angeles, CA - Silent Movie Theatre
(2 Shows)
March 9 - San Diego, CA - The Casbah
March 12 - Nashville, TN - 3rd & Lindsley Bar & Grill
March 13 - Atlanta, GA - Smith's Olde Bar
8PM/21+ $12
March 15 - Baltimore, MD - Fletcher's
March 16 - Boston, MA - George Sherman Union at Boston University
(for BU students only)
March 17 - South Burlington, VT - Higher Ground
March 18 - Toronto - El Mocambo
Ben Lee - Ache For You
(from
Awake Is The New Sleep
)
At Ben Lee's website, there's
video of he and Tina Dico singing
.