Split Enz Regroups; Fans Already Tired of "History Never Repeats" Jokes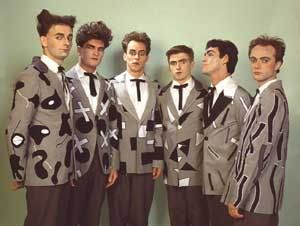 If January is "breakup month", perhaps February is the month for reunions. At a press conference today, Split Enz
revealed plans for a reunion tour in June
. While only 5 dates, all in Australia, have been booked so far, Tim Finn said dates in the band's native New Zealand are likely and that he would like to play in Los Angeles, New York, and London. "Let's wait and see" was the band's on-the-record response today to the question of a new studio album.
While reunion rumors have circulated for years, Tim Finn said the band only decided to make a go of it after playing two shows in association with their induction into the Australian Recording Industry Association Hall Of Fame last year. "There was an electricity there," apparently a good kind. The group played some songs during the press conference,
including, "Message To My Girl"
, perhaps to demonstrate the power of that tingly stuff.
Split Enz
formed in 1972 and went through 13 band-member changes in 12 years
. The incarnation of the group involved in the reunion is the same lineup responsible for the album
True Colours
(which included "I Got You",
their breakthrough hit
). That lineup consists of Tim and Neil Finn (vocals and guitar), Eddie Rayner (keyboards), Noel Crombie (percussion/
stylist/set designer
), Nigel Griggs (bass), and Malcolm Green (drums).
Dates announced thus far:
Wednesday June 7 Brisbane Entertainment Centre
Friday June 9 Sydney Entertainment Centre
Sunday June 11 Melbourne Rod Laver Arena
Tuesday June 13 Adelaide Entertainment Centre
Friday June 16 Perth Burswood Dome
Tickets for all go on sale Feb. 21 9:00 AM (Australia time, methinks)
Split Enz - History Never Repeats
(from
Corroborree
, etc.)
Split Enz - I See Red (live)
(from
Anniversary
)
Split Enz - Six Months In A Leaky Boat
(from
Time & Tide
, etc.)
Little Birdy - Six Months In A Leaky Boat
(cover, from
She Will Have Her Way: The Songs of Tim & Neil Finn
)